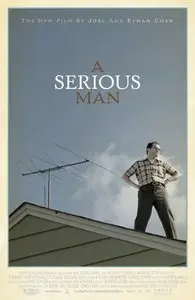 A Serious Man (2009)
720p BluRay Rip | English | Subtitles: English | mkv | 1280x696 | Video: AVC @ 4418 Kbps | Audio: DTS @ 1510 Kbps | 106 mins | 4.42 GB
Directors: Joel Coen, Ethan Coen | Writers: Ethan Coen, Joel Coen | Stars: Michael Stuhlbarg, Richard Kind, Sari Lennick
Nominated for 2 Oscars. Another 8 wins & 28 nominations
Genre: Comedy / Drama
A black comedy drama centered on Larry Gopnik, a Midwestern professor who watches his life unravel through multiple sudden incidents. Though seeking for meaning and answers he seems to stay stalled.
A Serious Man is a 2009 dark comedy written, produced, and directed by Joel and Ethan Coen. The film stars Michael Stuhlbarg as a Minnesota Jewish man whose life crumbles both professionally and personally, leading to questions about his faith. The film has attracted a positive critical response, including a Golden Globe nomination for Stuhlbarg, a place on both the American Film Institute's and National Board of Review's Top 10 Film Lists of 2009, and a nomination for the Academy Award for Best Picture.
IMDB info
Screenshots (click to enlarge to original size):