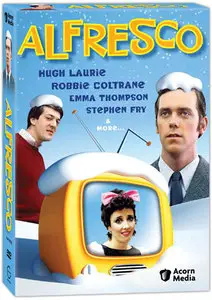 Alfresco. The complete series
DVD-rip | 1983-1984 | 16*25 minutes | 640x498 | MKV | h264 1127 Kbps 25fps | AAC 160 kbps | 16*200 Mb
Language: English | Genre: Comedy, Sketch show
All 13 episodes from the first two series of the early 1980s sketch show that was a launch pad for, among others,
Stephen Fry
,
Hugh Laurie
, Emma Thompson and Robbie Coltrane. Originally intended as an anarchic rival to BBC shows such as 'Monty Python' and 'Not the Nine o'Clock News', the show plundered talent from the Edinburgh Fringe, with Ben Elton hired as script writer. Also includes all three episodes from the show's short-lived precursor 'There's Nothing to Worry About!'.
In the tradition of Monty Python's Flying Circus and Saturday Night Live, Alfresco brought hilariously inventive comedy to British TV in the 1980s. It also introduced an entire troupe of bright young talents – Emma Thompson, Hugh Laurie, Robbie Coltrane, Ben Elton, Stephen Fry, and others – who went on to stardom.
Wild and wacky, Alfresco serves up social satire and delightfully off-the-wall sketches that seem as fresh and funny today as when they originally aired. The laughs fly hard and fast, and no sacred cows escape the skewer when these versatile comic actors lampoon bureaucrats, Jesus freaks, self-righteous counterculturists, and even their own show.