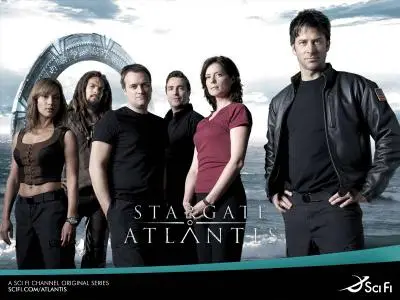 Stargate Atlantis Season 3 Episodes 14 till 20
Video XviD | HD-Rip | English | +/-200Mb - 400Mb | MP3 123kbps 2ch 48khz
Info:
When a secret base abandoned by the Ancients — the original builders of the stargates — is found buried in the ice of Antarctica, the Stargate Atlantis team is recruited for the most daring stargate mission yet: a one-way expedition to the distant Pegasus galaxy.
There the Stargate Atlantis team encounters a number of primitive human civilizations … as well as the Wraith, a sinister new enemy that threatens human life everywhere.
The Stargate Atlantis mission is headed by Dr. Elizabeth Weir (Torri Higginson), a specialist in diplomatic relations. Her political savvy is balanced by the go-with-your-gut bravado of her military counterpart, Maj. John Sheppard (Joe Flanigan), a courageous and gifted pilot. Rounding out the team are Lt. Aiden Ford (Rainbow Sun Francks), the enthusiastic young officer who becomes Sheppard's second-in-command; and Dr. Rodney McKay (David Hewlett), a clever and quick-witted astrophysicist with previous experience at Stargate Command. The team is befriended by Pegasus galaxy native Teyla (Rachel Luttrell), a beautiful young leader among the Athosian people, with whom the Atlantis team has forged an uneasy alliance against the Wraith.
http://www.ftp2share.com/file/35115/Atlantis_SE03_EP14-20.rar.html
Enjoy
-Tony