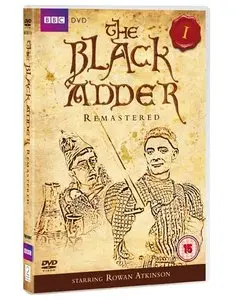 The Blackadder Series 1 Complete (Remastered)
DVD-rip | 1983 | 6*30 minutes | 640x496 | MKV | h264 1270 Kbps | MP3 CBR 128kbps | 6*300 Mb
Language: English | Embedded english subtitles
Behold the bad hair in this first collection of silliness! Here the slimy Edmund (Rowan Atkinson), Duke of Edinburgh (alias The Black Adder), emerges from the bowels of somewhere stinky to annoy historians. The collection includes "The Foretelling," "Born to be King," "The Archbishop," "The Queen of Spain's Beard," "Witchsmeller Pursuivant," and "The Black Seal."
The classic first series of BlackAdder was slightly different to its successors–Ben Elton was not yet part of the writing team, and Shakespearean parody featured prominently. Rowan Atkinson was at his best as a would-be Machiavellian medieval intriguer while Brian Blessed plays his gloriously over the top blustering militarist father.
The episodes collected here are: "The Foretelling", in which Richard III, played by Peter Cook in a brilliant parody of Olivier, wins Bosworth only to get in an unseemly argument about a horse; "Born to be King" in which Edmund, lumbered with providing bearded ladies, morris dancers and eunuchs for a festival, discovers some indiscreet love letters; "The Archbishop" in which after his father has the Archbishop of Canterbury killed, Edmund starts his intrigues again; "The Queen of Spain's Beard" in which Blackadder's father's international schemes call for Edmund to make a dynastic marriage to Miriam Margolyes as the Infanta of Spain, and Jim Broadbent plays a peculiarly irritating interpreter; "Witchsmeller Pursuivant" in which Edmund falls foul of the demonic witchsmeller, played with more gusto than is quite credible by Frank Finlay; and "The Black Seal", wherein Edmund assembles a group of villains as his personal retinue (Rik Mayall plays a mad prisoner).
This DVD contains the complete first series of the legendary comedy, Blackadder, now digitally restored from the original programme masters.