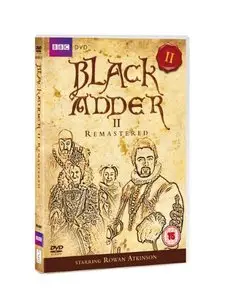 The Blackadder Series 2 Complete (Remastered)
DVD-rip | 1986 | 6*30 minutes | 640x496 | MKV | h264 1424 Kbps | MP3 CBR 128kbps | 6*300 Mb
Language: English | Embedded english subtitles
The filthy genes of the Blackadder dynasty bubble back to the surface as Lord Edmund swaggers around town with a big head and small beard in search of grace and favour from the stark-raving mad Queen Bess. Accompanied by a small rabble of riff-raff, together they manage to lower the whole tone of England's golden age.
The degradation of the grand and proud tradition that is the British monarchy continues as the loathsome Blackadder (Rowan Atkinson) snivels his way through the 16th century into the court of Queen Elizabeth I. This collection includes the six episodes comprising both "Parte the Firste," and "Parte the Seconde." Episodes are "Bells," "Head," "Potato," "Money," "Beer," and "Chains."
This DVD contains the complete second series of the legendary comedy, Blackadder, now digitally restored from the original programme masters.