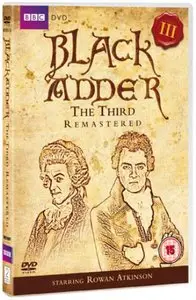 The Blackadder Series 3 Complete (Remastered)
DVD-rip | 1987 | 6*30 minutes | 640x496 | MKV | h264 1443 Kbps | MP3 CBR 128kbps | 6*300 Mb
Language: English | Embedded english subtitles
This third series presents more dim-witted antics from the annals of the Blackadder family. Previously aristocratic, Edmund Blackadder (Rowan Atkinson) now finds himself in the midst of the Industrial Revolution as a butler and gentlemen's gentleman to the pea-brained Prince Regent (Hugh Laurie). The collection includes six episodes: "Dish and Dishonesty, " "Ink and Incapability," "Nob and Nobility, " "Sense and Senility," "Amy and Amiability," and "Duel and Duality."
This DVD contains the complete third series of the legendary comedy, Blackadder, now digitally restored from the original programme masters.
The fortunes of the Blackadder family are somewhat in decline with the advent of the Regency period. Edmund is now butler and confidante to George, the Prince Regent, a dandified dunderhead who can't even figure out how to put on his own pantaloons. But it's an ideal opportunity for Blackadder to make buckets of cash, and even become Prince Regent himself. Unfortunately he veers from calamity to disaster with little in the way of constructive help from Baldrick.