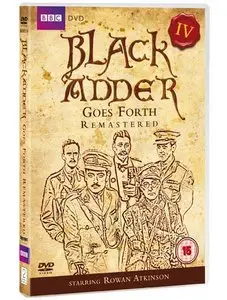 The Blackadder Series 4 Complete (Remastered)
DVD-rip | 1989 | 6*30 minutes | 640x496 | MKV | h264 1446 Kbps | AAC CBR 128kbps | 6*300 Mb
Language: English | Embedded english subtitles
Edmund Blackadder finds himself in the trenches on the Western Front in 1917. Episodes include "Captain Cook" (where Blackadder tries to escape active duty), "Corporal Punishment" (which finds ol' Edmund facing an execution), "Major Star" (featuring a concert of sorts), "Private Plane" (in which Blackadder finds himself caught in the crossfire), "General Hospital" (where Blackadder searches for German spies among the wounded), and "Goodbyeee" (when the end of the war is at hand).
This DVD contains the complete fourth series of the legendary comedy, Blackadder, now digitally restored from the original programme masters.
The highly acclaimed final series finds a world weary Captain Blackadder stationed on the Western front during World War I. He stumbles onto the battlefields and is not overjoyed to be facing four million German machine guns. It would be slightly more bearable if General Melchett's battle plans were less suicidal and if Private Baldrick's cooking wasn't confined to rat.