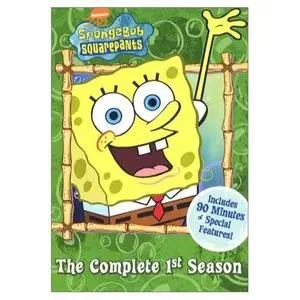 SpongeBob Squarepants Season 1
DVD-Rip | Video: XVID 640 x 480, 29.97fps | Audio: MP3 128 Kbps, 44.1KHz
39 episodes in total (3990MB)
The character-driven toon chronicles the nautical and sometimes nonsensical adventures of SpongeBob, an incurably optimistic and earnest sea sponge, and his undersea friends. Dwelling a few fathoms beneath the tropical isle of Bikini Atoll in the sub-surface city of Bikini Bottom, SpongeBob lives in a two-story pineapple. Instead of taking the logical approach to everyday challenges, SpongeBob approaches life in a wayward and unconventional way. Whether searching for the ultimate spatula to perfect his burger flipping technique at the Krusty Krab, or just hanging out with his best friend Patrick (an amiable starfish), SpongeBob's good intentions and overzealous approach to life usually create chaos in his underwater world.
SPONGEBOB SQUAREPANTS revolves around the denizens of Bikini Bottom and a sweet square yellow sponge with the tongue twister name of SpongeBob SquarePants, who lives in a giant pineapple with his cookie-loving pet snail Gary. His two best friends and comrades-in-misadventures, are Patrick, a gullible starfish and a temperamental, thrill-seeking squirrel named Sandy Cheeks who lives in an underwater dome complete with a large Texas tree house and picnic area.
SpongeBob is the "best fry cook ever" at the Krusty Krab, where he has to deal with his miserly boss Mr. Krabs and the grumpy cashier Squidward Tentacles. SpongeBob is always landing himself (and his friends!) in hot soup despite the best of intentions. His enthusiasm and optimism are endearing and infectious, making him one of the best-loved characters by children and adults alike. Episodes:
- Bubblestand
- Ripped Pants
- Help Wanted
- Reef Blowers
- Tea at the Treedome
- Jellyfishing
- Plankton!
- Naughty Nautical Neighbors
- Boating School
- Pizza Delivery
- Home Sweet Pineapple
- Mermaid Man and Barnacle Boy
- Pickles
- Hall Monitor
- Jellyfish Jam
- Sandy's Rocket
- Squeaky Boots
- Nature Pants
- Opposite Day
- Culture Shock
- F.U.N.
- MuscleBob BuffPants
- Squidward, the Unfriendly Ghost
- The Chaperone
- Employee of the Month
- Scaredy Pants
- I Was a Teen-age Gary
- SB-129
- Karate Choppers
- Sleepy Time
- Suds
- Valentine's Day
- The Paper
- Arrgh!
- Rock Bottom
- Texas
- Walking Small
- Fools in April
- Neptune's Spatula
- Hooky
- Mermaid Man and Barnacle Boy II