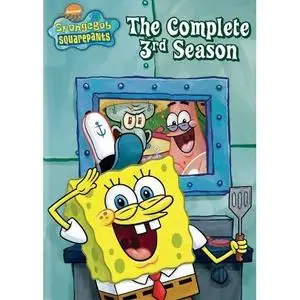 Video: DivX 5 512x384 23.98fps
Audio: MPEG Audio Layer 3 48000Hz stereo 130Kbps
3700MB on Rapidshare
Finally season 3 is out! I've played the tartar sauce out of the first two seasons and it is nice to have some new episodes on DVD even though most of these I've seen numerous times on television. This DVD set is much more compact than the other two with streamline cases but does not sacrifice the cool artwork. I like the rustic design of the case covers with the woodwork of the Krusty Krab. It also takes up far less room than the bulky season 1 and 2 sets.

Episodes:
-The Algae's Always Greener / SpongeGuard On Duty
-Club SpongeBob / My Pretty SeaHorse
-Just One Bite / The Bully
-Nasty Patty / Idiot Box
-Mermaid Man And Barnacle Boy IV / Doing Time
-The Snowball Effect / One Krab's Trash
-As Seen On TV / Can You Spare A Dime?
-No Weenies Allowed / Squilliam Returns
-Krab Borg / Rock-A-Bye Bivalve
-Wet Painters / Krusty Krab Training Video
-SpongeBob's House Party
-Chocolate With Nuts / Mermaid Man And Barnacle Boy V
-New Student Starfish / Clams
-SpongeBob BC
-The Great Snail Race / Mid-Life Crustacean
-Born Again Krabs / I Had An Accident
-Krabby Land / The Camping Episode
-Missing Identity / Plankton's Army
-The Sponge Who Could Fly
-SpongeBob Meets The Strangler / Pranks A Lot
Download links
http://www.ftp2share.com/file/...b.squarepants.ses3.dvdrip.html