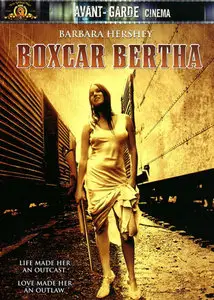 Boxcar Bertha (1972)
85 min | Xvid 688x368 | 2110 kb/s | 23.976 fps | 192 kb/s AC3 | 1.36 GB + 3% recovery record
English | Subtitles: English(CC), French and Spanish .srt | Genre: Drama
Bertha Thompson links up with union organizer "Big" Bill Shelley after the death of her father. Running afoul of anti-union forces, Bertha and Shelley are forced into a life of crime. Whereas Bonnie and Clyde robbed banks, Boxcar Bertha's specialty is trains. A story of this nature can only end in tragedy, and wait until you see Carradine's symbolic demise! For the record, there really was a Boxcar Bertha Thompson, and it is her autobiography, Sister of the Road, that serves as the basis for Joyce and John Corrington's screenplay.
Bertha es un espíritu libre y una bandida de poca monta con una actitud de "ámalos y déjalos"… hasta que se enamora del sindicalista (y Robin Hood del ferrocarril) Big Hill Shelly. Bertha y Bill se dedican entonces a robarle a los ricos para dárselo a los trabajadores y rápidamente se convierten en los asaltantes de trenes más famosos del sur. Pero a medida que sus delitos se vuelven más atrevidos, la ley se toma más implacable y la pareja descubrirá, demasiado tarde, que esa vida de asaltantes tal vez les lleve a un viaje sin retorno… hacia un destino final.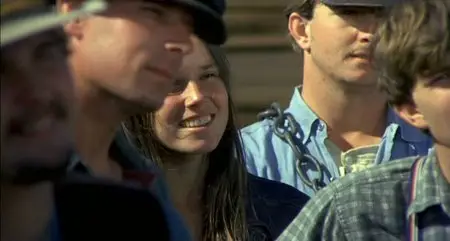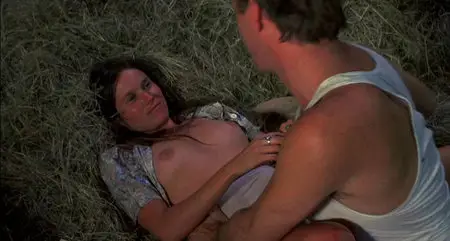 Boxcar Bertha
, one of acclaimed director Martin Scorsese's earliest films, is an extremely loose adaptation of
Sister of the Road
, the fictionalized autobiography of radical and transient Bertha Thompson as written by physician Dr. Ben L. Reitman. One of producer Roger Corman's famous exploitation films, the movie was made with a minuscule $600,000 budget and taught Scorsese how to make films quickly and economically.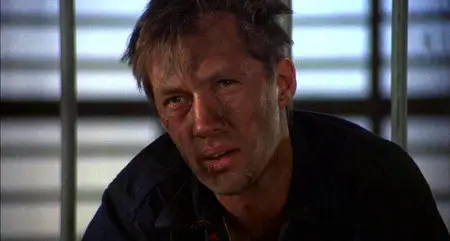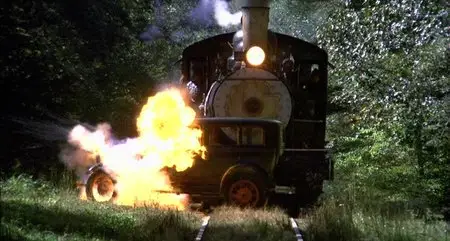 Besides the name of the heroine and her freight riding, very little of the film bears any resemblance to the original story written in
Sister of the Road
. The film tells the story of Bertha Thompson (played by Barbara Hershey) and "Big" Bill Shelley (played by David Carradine), two train robbers and lovers who are caught up in the plight of railroad workers in the American South. When Bertha is implicated in the murder of a wealthy gambler, the pair become fugitives from justice. While this story adheres to certain conventions of exploitation narrative, it also offers a surprisingly frank look at race and gender issues in the 1930s.
Actors Barbara Hershey and David Carradine (real-life lovers at the time) have both stated that their sex scenes in the film were unsimulated.
Ripped with
MeGUI
from the MGM BluRay DVD.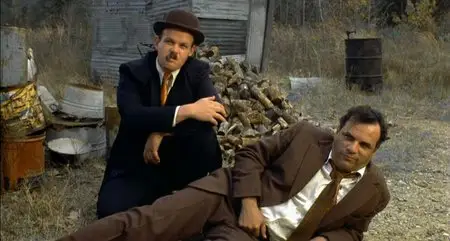 Segundo largo de Martin Scorsese, que inició su filmografía con
¿Quién golpea mi puerta?
(1967). Se basa en
Sister Of The Road
, autobiografía de Bertha Thompson, escrita por Ben L. Reitman, según relato oral de la misma. Se rodó en exteriores de Reader (Arkansas) con un presupuesto inferior a 1 millón de dólares. El productor fue Roger Corman y el estreno se celebró el 14-VI-1972 (EEUU).
La acción trascurre en Arkansas, durante la Depresión del '30. Narra la historia de "Boxcar" Bertha Thompson (Barbara Hershey), huérfana a causa de un accidente laboral del padre, de espíritu libre e independiente, de amores efímeros, forma pareja con "Big" Bill Shelly (David Carradine), peón de la compañía ferroviaria local, sindicalista de izquierdas, que la arrastra a una vida de asaltos y robos a la empresa y a sus dirigentes, al objeto de mejorar las condiciones de los trabajadores. A los dos se unen un dandy neoyorquino desarraigado, Rake Brown (Barry Primus), y el mecánico afroamericano Von Morton (Bernie Cassey).
La película desarrolla un relato de robos y asaltos con intimidación a personas relacionadas con la empresa y a las instalaciones de ésta. El fruto se destina a los trabajadores necesitados, parados, enfermos, etc. El cuadro de miseria, paro y deseperación, de la Depresión queda esbozado con trazos amargos. La preocupación social del film, reflejo de las preferencias de Corman, incluye referencias a las malas condiciones trabajo asalariado, su precariedad, su dependencia del capricho de los ejecutivos y la insuficiencia de los salarios, en contraste con la opulencia y lujo de los grandes propietarios. Ante las acciones de la banda, la compañía solicita la intervención policial y contrata matones a sueldo, sanguinarios y sádicos. La espiral de violencia se eleva gradualmente hasta alcanzar su cenit en una escena desagarradora.
Script/Guión
: Joyce H. Corrington & John William Corrington
Music/Sonido
: Gilb Guilbeau & Thad Maxwell
Cinematography/Fotografía
: John M. Stephens
Cast/Reparto
: Barbara Hershey, David Carradine, Barry Primus, Bernie Casey, John Carradine, Victor Argo, David Osterhout, Grahame Pratt, 'Chicken' Holleman, Harry Northup, Ann Morell, Marianne Dole, Joe Reynolds, Michael Fitzgerald