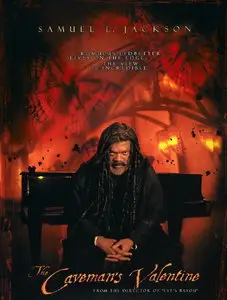 The Caveman's Valentine / Клошар (2001)
DVD-Rip | English, Russian | 1:40:55 | 700 x 388 | 25fps | DivX, 1545 kbps | mp3, 192 kb/s | 1.36 GB
Genre: Crime | Drama | Music | Mystery | Thriller
Samuel L. Jackson gives a virtuoso performance in this intensely visual suspense film. Jackson stars as Romulus Ledbetter, a brilliant musician whose mental demons have driven him onto the streets. When Ledbetter finds a murdered man outside the cave he calls home one morning, he is compelled to find the real killer. While interesting enough to hold the viewer's attention, the mystery of The Caveman's Valentine is a distant third to Jackson's performance and the film's sumptuous visuals. The film is gorgeously shot, and lights and abstract images are effectively used to show Romulus's beautiful but tormented inner world. While the plot does take a silly leap of logic or two, Romulus's illness and the strain it puts on his family are sensitively and realistically handled. His all-too-real run-ins with his policewoman daughter are nicely contrasted with his visions of his ex-wife, who serves as a combination of Greek chorus and muse. If one is willing to suspend a little disbelief here and there, this picture is well worth a look.