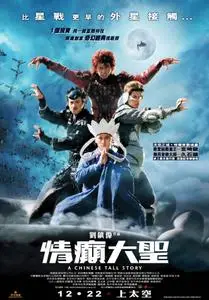 Chinese Tall Story
XViD | 640 x 352 | 850 kbps | 124m | Chinese Movie | English subtitle
Tang monk Tripitaka (Nicholas Tse) and his three disciples – Monkey King Sun WuKong (Chen Bo-lin), Pig Monk Zhu WuNeng (Kenny Kwan), and Sand Monk Sha WuJing (Steven Cheung) arrive triumphantly to a hero's welcome in Shache city. Little do they know that ahead of them lays Tripitaka's most arduous challenge before he achieves deification…and it is a test that he and only he alone can overcome.
During their stay in the city, the three disciples are captured by evil Tree Spirits. Tripitaka borrows the Golden Pole and tries to find a way to save them. He meets a young lizard imp Meiyan (Chalene Choi) who is more than a visual match for Quasimodo: matted bushy hair, and theeth of any dentist's nightmare. Meiyan falls in love with Tripitaka at first sight and devotes herself to trailing him. She even sets a love trap to ensnare him. Tripitaka unwittingly falls into the trap and, in the process, breaks the Heavenly Code.
The region is one full of monsters, strange beings and creatures of unknown orgins and among them are the beautiful Princess XiaoShan (Fan Bing-bing) and her army. On a passing journey to Earth, her path crosses Tripitaka's and she vows her aid. Tripitaka decides to leave with the Princess.
Meiyan is heartbroken. She picks a fight with Princess XiaoShan and, although she loses, she finally discovers her own identity as a galactic warrior. She eventually helps the princess in defeating the enemy and rescuses Tripitaka and his disciples.
After the battle, Meiyan surrenders to the Temple of Heaven for judgment. Torn between passion and righteousness, Tripitaka rebels against the heaves to rescue the gallows-bound Meiyan. A benevolent Buddha is moved and pardons the two, on condition that they embark on a journey to the west to accomplish the Eight-One Tasks to redeem themselves as well as save the world.
Download
http://www.ftp2share.com/file/9925/chinese_tall_story.txt.html
content all download links in one text file…