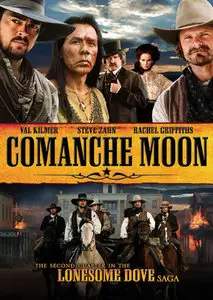 Comanche Moon
English | Subtitle: no | 1:35:56 | 704 x 416 | PAL (25fps) | DivX | 2008 | 700 MB
Genre: Western - Action
stars Val Kilmer (Top Gun, Tombstone), Steve Zahn (Employee of the Month, Daddy Day Care), Rachel Griffiths (Brothers & Sisters, Six Feet Under), Linda Cardellini (ER, Freaks & Geeks), Karl Urban (The Lord of the Rings trilogy, "Dr. McCoy" for the upcoming Star Trek film) and Elizabeth Banks (Scrubs, the Spider-Man film trilogy).
Texas Rangers Woodrow Call and Augustus McCrae pursue three outlaws, Comanche war chief Buffalo Hump, Comanche horse thief Kicking Wolf and a Mexican bandit king. Now in their middle years, they also struggle with their personal lives, Gus with Clara Forsythe, the love of his life, and Call with Maggie Tilton, the young prostitute who loves him. Meanwhile their partners-in-arms Deets, Jake Spoon and Pea Eye Parker help the Rangers protect the advancing western frontier from the defiant Comanches who are determined to defend their land and way of life. Prequel to Lonesome Dove, and based upon the novel by Larry McMurty.