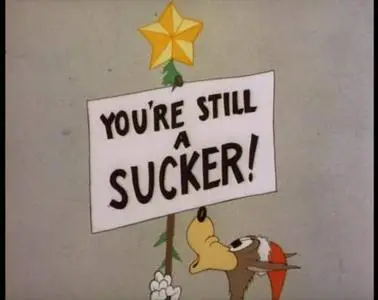 Cartoon - Tex Avery -0106- One Ham's Family (8/14/43)
XviD - 1346 kbps | 624 x 496 | 25 Frames/s | MPEG-1 Layer 3 - 48000Hz 128 kb/s tot , Joint Stereo | 100 MB | language: English
Tex Avery is one of the greatest cartoonists the world will ever know. He is the creator of such characters as The Wolf, Droopy, and Screwy Squirrel. His cartoon style of slapstick gags and hilarious situations are still being imitated today, over forty years after they were created.
Wolf, dressed as Santa, tries to bag some ham but is outsmarted by Jr. Pig.