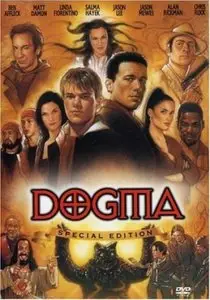 Dogma (1999)
DVDRip | 2h 02min | XviD - 921kbps - 672x272 | German - 6CH - AC3 - 448kbps, English - MP3 - 128kbps | 1400 MB
English, German | Sub: N/A
Genre: Adventure | Comedy | Fantasy
An abortion clinic worker with a special heritage is called upon by the Voice of God to stop two exiled angels from entering a New Jersey church and thus negating all existence. She is aided by the little know thirteenth apostle named Rufus, a literal muse turned stripper and two bad-mouthed, mall-crawling, joint-smoking prophets: Jay and Silent Bob. An ex-muse turned demon named Azrael tries to keep the group from accomplishing their goal so he can have his revenge against God.
Director: Kevin Smith
Stars: Ben Affleck, Matt Damon and Linda Fiorentino
IMDB