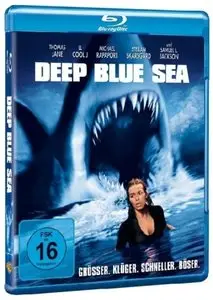 Blu Profondo (1999)
BluRayrip | MPEG-4 Visual | AVI | 656x272 | Xvid @ 1456 Kbps | AC3 @ 384 Kbps CBR | 01:45:11 | 1.4 Gb
Languages Available: Italian | Subtitle: No
Genre: Horror
Un gruppo di ricercatori è impegnato a bordo del laboratorio marino Aquatica. La dottoressa Susan McAlester ha un obiettivo: scoprire la chiave per rigenerare il tessuto cerebrale umano, intervenendo a livello genetico sul DNA degli squali mako. Non rivelando ad altri i propri propositi, Susan ha però violato il codice etico, ed ora ha reso gli squali più intelligenti, più veloci. Da pericolosi predatori li ha trasformati in mostri predatori. I suoi metodi, molto eccepibili, creano tensione tra gli altri del gruppo, in particolare l'esperto di squali Carter e Sherman, detto il Predicatore. Mentre Russell Franklin, uno dei principali finanziatori, mette sull'avviso della possibile diminuzione di fondi per la ricerca, arriva imprevista la reazione dello squalo più grande, che provoca un danno irreparabile alle attrezzature. Aumentata la massa cerebrale, anche gli altri squali attaccano, mentre fuori si scatena un uragano tropicale. Si aprono delle crepe, e i livelli del laboratorio si allagano. Russel è la prima vittima di uno squalo ormai avvicinatosi. Mentre si cerca di preparare una difesa, Janice, la biologa, viene risucchiata dallo squalo. In tre riescono ad uscire dal portello al livello dell'acqua. Sherman è preso dallo squalo, è ferito. Susan in preda al senso di colpa, si ferisce per attirare con il sangue lo squalo-femmina. Muore e, finalmente, Sherman lancia il razzo che fa esplodere l'animale. Sherman e Carter vedono da lontano il nuovo turno che arriva a dar loro il cambio. Dicono che cambieranno lavoro.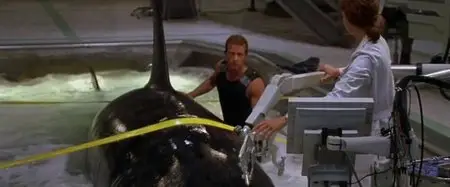 EnglishIMDB Rating: 5.0/10
A businessman sinks $200 million into a special project to help fight brain cancer. As part of this project, medical biologist Susan McAlester rather naughtily figures out a way to genetically enlarge shark brains, so that cancer-battling enzymes can be harvested. However, the shark subjects become super smart and decide they don't much like being cooped up in pens and being stabbed with hypodermics, so they figure a way to break out and make for the open sea…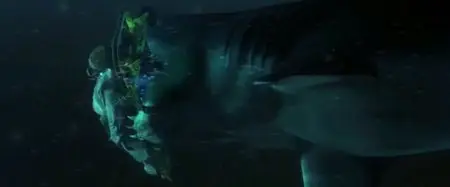 [ Info sul file ]

Nome: Blu.Profondo.1999.iTALiAN.BDRip.XviD-TRL.CD1.avi
Data: 24/06/2010 13:45:46
Dimensione: 733,200,384 bytes (699.234 MB)

[ Info generiche ]

Durata: 00:52:50 (3169.52 s)
Tipo di contenitore: AVI OpenDML
Streams totali: 2
Tipo stream n. 0: video
Tipo stream n. 1: audio
Audio streams: 1
ISFT: VirtualDubMod 1.5.10.1 (build 2439/release)
JUNK: VirtualDubMod build 2439/release

[ Dati rilevanti ]

Risoluzione: MEDIA (656 x 272)
Larghezza: multipla di 16 (BENE)
Altezza: multipla di 16 (BENE)

[ Traccia video ]

FourCC: xvid/XVID
Risoluzione: 656 x 272
Frame aspect ratio: 41:17 = 2.411764
Pixel aspect ratio: 1:1 = 1
Display aspect ratio: 41:17 = 2.411764
Framerate: 25 fps
Frames totali: 79238
Stream size: 577,208,925 bytes
Bitrate: 1456.899278 kbps
Qf: 0.326600
Key frames: 1275 (0; 250; 384; 410; 660; … 79200)
Null frames: 0
Min key int: 1
Max key int: 250
Key int medio: 62.147450
Ritardo: 0 ms

[ Traccia audio ]

Audio tag: 0x2000 (AC3)
Bitrate (contenitore): 384 kbps CBR
Canali (contenitore): 6
Frequenza (contenitore): 48000 Hz
Chunks: 79227
Stream size: 152,136,960 bytes
Preload: 480 ms
Max A/V diff: 496 ms
Chunk-aligned: No
Mode: 3 front, 2 rear, 1 LFE
Ritardo: 0 ms

[ Info sulla codifica MPEG4 ]

User data: XviD0041
QPel: No
GMC: No
Interlaced: No
Aspect ratio: Square pixels
Quant type: MPEG

[ Profile compliancy ]

Profilo da testare: MTK PAL 6000
Risoluzione: Ok
Framerate: Ok
Avvertenza: Se vuoi un rapporto più completo e preciso clicca su "Analisi DRF"

Rapporto generato da AVInaptic (18-11-2007) in data 10 ago 2011, h 00:14:05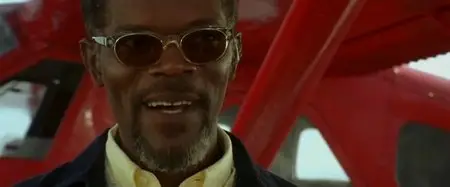 REGIA: Renny Harlin
SCENEGGIATURA: Donna Powers, Wayne Powers, Duncan Kennedy
ATTORI: Thomas Jane, Saffron Burrows, Samuel L. Jackson, Jacqueline McKenzie, Michael Rapaport, Stellan Skarsgård, Ll Cool J, Aida Turturro
Ruoli ed Interpreti
FOTOGRAFIA: Stephen F. Windon
MONTAGGIO: Dallas Puett, Frank J. Urioste, Derek G. Brechin
MUSICHE: Trevor Rabin
PRODUZIONE: ALAN RICHE, TONY LUDWIG, AKIVA GOLDSMAN PER GROUCHO III FILM PARTERSHIP - RICHE-LUDWIG PRODUCTIONS - VILLAGE ROADSHOW PRODUCTIONS - WARNER BROS
DISTRIBUZIONE: WARNER BROS ITALIA (1999) - WARNER HOME VIDEO
PAESE: USA 1999
GENERE: Horror
DURATA: 105 Min
FORMATO: Colore

Filesonic.com

|

Wupload.com

|

Uploading.com



Clicca QUI per gli altri film in formato BluRayrip Avi Xvid postati su AvaxHome
Please DO NOT MIRROR
If you'll find that my links are dead please let me know through the Private Messages.
>>> Visit edi1967 Blog Here <<<