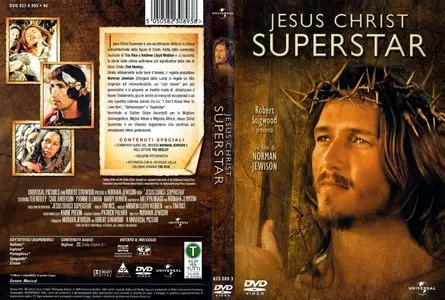 Jesus Christ Superstar (1973)
DVD9 | VIDEO_TS | PAL Area 2 | 2.35:1 | 16:9 | 720x576 | 01:42:22 | 7.6 Gb
Languages: English Dolby Digital 5.1 AC3 | Subtitle: English, Portuguese, Spanish, Italian, Croatian
Extra: Scene Selection, Menù, Interviews, Commentary, Photo Gallery
Genre: Musical | Nominated for Oscar. Another 3 wins & 10 nominations
The film opens with a group of actors arriving in the Holy Land in a bus and preparing for the filming of Jesus Christ Superstar during the overture. Ted Neeley (Jesus) is seen shortly before entering the circle wearing a green tie-dye shirt. He pauses to observe them taking the cross off of the bus. He is next seen walking with Yvonne Elliman (Mary Magdalene) who is carrying the white robe that Ted Neeley is about to put on. As the group encircles them, you see the green tie-dye shirt come off.



IMDB Rating: 7.0/10






The show gets underway, and we see Judas sitting on a hill watching Jesus surrounded by followers. Judas is worried about Jesus' popularity — he is being hailed as a God, but Judas feels he is just a man, and fears the consequences of their growing movement ("Heaven on Their Minds"). The other disciples badger Jesus for information about his plans for the future, but Jesus will not give them any. Mary Magdalene tries to calm Jesus by dabbing cool water on his face. Jesus finds this very soothing ("What's the Buzz?"). Judas' arrival and subsequent declaration that Jesus should not associate with Mary dampens the mood. Angrily Jesus tells Judas that he should leave Mary alone, because his slate is not clean. He then accuses all the apostles of not caring about him ("Strange Thing Mystifying").




In a new song added for the film, we are introduced to the High Priest, Caiaphas (Bob Bingham), and his religious second in command, Annas (Kurt Yaghijan). Caiaphas is worried about Jesus' growing popularity as well — he fears that the people will crown him King, which will upset the Romans. At first, Annas tries to calm him, but he finally sees Caiaphas' point, and suggests that he convene the council and explain his fears to them. Caiaphas agrees ("Then We Are Decided"). Mary Magdalene rubs ointment on Jesus' face to calm him. The relaxing mood is again shattered by Judas, who says that the money spent on ointment should have been given to the poor.




Jesus rebukes him again, telling him that the poor will be there always, but Jesus will not ("Everything's Alright"). The council of the Priests meet, and they all discuss their fears about Jesus. Caiaphas tells them that there is only one solution: like John the Baptist, Jesus must be executed for the sake of the nation ("This Jesus Must Die"). Jesus and his followers joyfully arrive in Jerusalem, but Caiaphas orders Jesus to disband the crowd for fear of a riot. Jesus refuses and speaks to the crowd ("Hosanna"). Later, the apostle Simon Zealotes, and a crowd of followers, voice their admiration for Jesus ("Simon Zealotes"). Jesus appreciates this, but becomes worried when Simon suggests directing the crowd towards an uprising against their Roman occupiers. Jesus sadly dismisses this suggestion, saying that they do not understand his true purpose ("Poor Jerusalem").




We are now introduced to Pilate, the Roman governor of Judea. He reveals that he has dreamed about a Galilean man (Jesus) and that he will be blamed for this man's death ("Pilate's Dream"). The Gospel of Matthew 27:19 states that it was actually Pilate's wife who had this dream. Jesus and his followers arrive at the temple, which has been taken over by money changers and prostitutes. Modern goods like machine guns, mirrors, and drug paraphernalia are seen being sold. A furious Jesus destroys the stalls and forces them to leave. A disconsolate Jesus goes for a walk, but is confronted by a crowd of lepers, all wanting to be healed. Jesus tries to heal as many of them as possible, but eventually gives up and screams at them to leave him alone ("The Temple").




Mary comforts Jesus and Jesus goes to sleep. Mary loves Jesus, but is worried because he is so unlike any other man she has met ("I Don't Know How to Love Him"). Judas goes to the Priests and expresses his concerns, but he is worried about the consequences of betraying Jesus ("Damned for All Time"). The Priests take advantage of his doubts, and offer him money if he will lead them to Jesus. Judas initially refuses, but Caiaphas wins him over, by reminding him that he could use the money to help the poor ("Blood Money"). Again the filmmakers use modern inventions for effect; Judas is chased first by tanks, and after he meets with the Priests, two jets fly low over Judas' head.




Jesus Christ Superstar is a 1973 American film adaptation of the Andrew Lloyd Webber/Tim Rice rock opera of the same name, based on the conflict between Judas and Jesus in the last weeks before the crucifixion of Jesus. The film was directed by Norman Jewison. Ted Neeley and Carl Anderson were nominated for two Golden Globe Awards in 1974 for their portrayals of Jesus and Judas, respectively. Although it attracted criticism from some religious groups, the film was generally well received.


From Wikipedia






Musical numbers

"Overture"
"Heaven on Their Minds"
"What's the Buzz?"
"Strange Thing Mystifying"
"Then We Are Decided"
"Everything's Alright"
"This Jesus Must Die"
"Hosanna"
"Simon Zealotes"
"Poor Jerusalem"
"Pilate's Dream"
"The Temple"
"Everything's Alright (Reprise)"
"I Don't Know How to Love Him"
"Damned for All Time"
"Blood Money"

"The Last Supper"
"Gethsemane (I Only Want to Say)"
"The Arrest"
"Peter's Denial"
"Pilate and Christ"
"Hosanna (Reprise)"
"King Herod's Song (Try It and See)"
"Could We Start Again Please?"
"Judas' Death"
"Trial Before Pilate (Including the 39 Lashes)"
"Superstar"
"The Crucifixion"
"John 19: 41"

Special Features

An exclusive interview with Master Lyricist Tim Rice
Feature commentary with Director Norman Jewison and Actor Ted Neeley
Photo gallery



From Wikipedia
General
Complete name : C:\Download Scaricati\JCS\VTS_01_0.IFO
Format : DVD Video
Format profile : Program
File size : 86.0 KiB
Duration : 1h 42mn
Overall bit rate : 114 bps

Video
ID : 224 (0xE0)
Format : MPEG Video
Format version : Version 2
Duration : 1h 42mn
Bit rate mode : Variable
Width : 720 pixels
Height : 576 pixels
Display aspect ratio : 16:9
Frame rate : 25.000 fps
Standard : PAL
Compression mode : Lossy

Audio #1
ID : 128 (0x80)
Format : AC-3
Format/Info : Audio Coding 3
Duration : 1h 42mn
Channel(s) : 2 channels
Sampling rate : 48.0 KHz
Compression mode : Lossy
Language : English

Audio #2
ID : 129 (0x81)
Format : AC-3
Format/Info : Audio Coding 3
Duration : 1h 42mn
Channel(s) : 2 channels
Sampling rate : 48.0 KHz
Compression mode : Lossy
Language : English
Language, more info : Director's comments

Text #1
ID : 32 (0x20)
Format : RLE
Format/Info : Run-length encoding
Bit depth : 2 bits
Language : English

Text #2
ID : 33 (0x21)
Format : RLE
Format/Info : Run-length encoding
Bit depth : 2 bits
Language : Italian

Text #3
ID : 34 (0x22)
Format : RLE
Format/Info : Run-length encoding
Bit depth : 2 bits
Language : Spanish

Text #4
ID : 35 (0x23)
Format : RLE
Format/Info : Run-length encoding
Bit depth : 2 bits
Language : Portuguese

Text #5
ID : 36 (0x24)
Format : RLE
Format/Info : Run-length encoding
Bit depth : 2 bits
Language : Croatian

Text #6
ID : 37 (0x25)
Format : RLE
Format/Info : Run-length encoding
Bit depth : 2 bits
Language : English
Language, more info : Director comments

Text #7
ID : 38 (0x26)
Format : RLE
Format/Info : Run-length encoding
Bit depth : 2 bits
Language : Italian
Language, more info : Director comments

Text #8
ID : 39 (0x27)
Format : RLE
Format/Info : Run-length encoding
Bit depth : 2 bits
Language : Spanish
Language, more info : Director comments

Text #9
ID : 40 (0x28)
Format : RLE
Format/Info : Run-length encoding
Bit depth : 2 bits
Language : Portuguese
Language, more info : Director comments

TITOLO ORIGINALE:
Jesus Christ Superstar
REGIA: Norman Jewison
SCENEGGIATURA: Norman Jewison, Melvyn Bragg
ATTORI: Ted Neeley, Carl Anderson, Yvonne Elliman, Barry Dennen, Bob Bingham, Larry T. Marshall, Josh Mostel, Kurt Yaghjan, Philip Toubus, Pi Douglass, Richard Orbach, Thommie Walsh, Richard Molinare, David Devir, Jeff Hyslop, Shooki Wagner, Robert LuPone
Ruoli ed Interpreti
FOTOGRAFIA: Douglas Slocombe
MONTAGGIO: Antony Gibbs
MUSICHE: Andrew Lloyd Webber
PRODUZIONE: UNIVERSAL PICTURES
DISTRIBUZIONE: CIC - CIC VIDEO, SAN PAOLO AUDIOVISIVI
PAESE: USA 1973
GENERE: Musical
DURATA: 107 Min
FORMATO: Colore CINESCOPE TECHNICOLOR
Soggetto:
ROCK OPERA "JESUS CHRIST SUPERSTAR" DI TIM RICE
Note: - DAVID DI DONATELLO 1974 PER MIGLIOR FILM STRANIERO (NORMAN JEWISON)
AUDIO : English
SOTTOTITOLI : MULTI SUB
MENU' : Si
EXTRA : Si
METODO DI DIFFUSIONE : ISO
FONTE: DVDFab

Recovery Volumes (.rev)

Recovery volumes or .rev files are special files which can be created by WinRAR/RAR and allow you to reconstruct missing and damaged files in a volume set. They can
only be used with multi-volume archives.

This feature may be useful for backups or, for example, when you post a multivolume archive to a newsgroup and some of the subscribers did not receive some files. Reposting recovery volumes instead of usual volumes may reduce the total number of files to repost.

Each recovery volume is able to reconstruct one missing RAR volume. For example, if you have 30 volumes and 3 recovery volumes, you are able to reconstruct any 3 missing volumes. If the number of .rev files is less than a number of missing volumes, reconstructing is impossible. The total number of usual and recovery volumes must not exceed 255 and the number of recovery volumes must be less than the number of RAR volumes.

WinRAR reconstructs missing and damaged volumes either when clicking on .rev file, or when using rc command or automatically, if it cannot locate the next volume and finds the required number of .rev files when unpacking.

You may use the "Recovery volumes" option in the Archive name and parameters dialog or a similar option also appears in the Protect archive command to create recovery volumes. In the command line mode you may do it with -rv switch or rv command.

Original copies of damaged volumes are renamed to *.bad before reconstruction. For example, volname.part03.rar will be renamed to volname.part03.rar.bad.

From Win-rar.com
Click HERE for others Movies in DVD format
Please DO NOT MIRROR
If you'll find that my links are dead please let me know through the Private Messages.
>>> Visit edi1967 Blog Here <<<



In case the download links lead you into others site, copy the text to the address bar and it'll be okay.