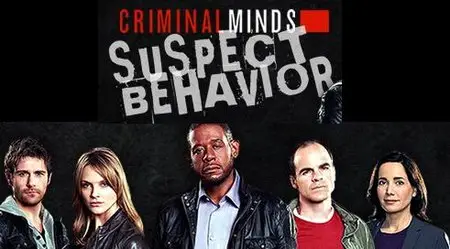 Criminal Minds - Suspect Behavior (2011) Stagione 1 Episodio 1
HDTV | Italian | AVI | 624 x 352 | XviD @ 994 kbps | MP3 @ 162 kbps | 42 min | 350 MB
Genre: Drama | Episode 01: Destini incrociati
La serie racconta le vicende di una squadra di profiler della Behavioral Analysis Unit dell'FBI, alle prese con i peggiori criminali della nazione. A differenza delle squadre tradizionali, il team guidato da Sam Cooper è una delle cosiddette Red Cells, ovvero squadre di pronto intervento che operano al di fuori della burocrazia di Quantico, e che rispondono del loro operato soltanto al direttore del Bureau. Cooper e i suoi uomini fanno affidamento su metodi d'indagine alternativi e controcorrente, e su tattiche d'azione decisamente aggressive, per scavalcare gli intoppi e le lungaggini che bloccano e rallentano le indagini tradizionali.
Criminal Minds: Suspect Behavior è una serie televisiva statunitense prodotta nel 2011, nata come spin-off di Criminal Minds.
Come la serie madre, anche Suspect Behavior vede al centro della trama le vicende di una squadra di profiler dell'FBI, la quale però lavora seguendo metodi d'indagine completamente diversi e fuori dagli schemi.
La serie è stata trasmessa in prima visione negli Stati Uniti da CBS dal 16 febbraio 2011. In Italia è trasmessa in prima visione satellitare da Fox Crime dal 19 maggio 2011. Nella Svizzera italiana è trasmessa da RSI LA2 dal 5 giugno 2011.
I protagonisti di questo spin-off sono stati presentati al pubblico in un backdoor pilot all'interno di Criminal Minds, corrispondente al 18º episodio della quinta stagione (Fino alla morte). In questo episodio sono apparsi Forest Whitaker, Michael Kelly, Matt Ryan e Beau Garrett.
Visti gli ottimi risultati d'ascolto, è stata confermata la produzione di questa nuova serie, con una prima stagione di 13 episodi, da trasmettere in mid-season, e si sono aggiunti al cast regolare Kirsten Vangsness (già in Criminal Minds), Janeane Garofalo e Richard Schiff.
Inizialmente prevista per il gennaio 2011, Criminal Minds: Suspect Behavior ha debuttato in prima visione negli Stati Uniti il 16 febbraio[8]. In Italia la serie è trasmessa in prima visione satellitare da Fox Crime a partire dal 19 maggio 2011, ed è previsto il suo passaggio in chiaro su Rai 2, mentre nella Svizzera italiana ha debuttato su RSI LA2 il 5 giugno 2011.
Il 17 maggio 2011 la serie è stata ufficialmente cancellata dalla CBS.
Trama Episodio 1 - Destini incrociati
A Cooper e la sua squadra viene chiesto di indagare su una serie di rapimento di bambine nella città di Cleveland.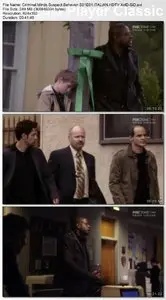 [ Info sul file ]

Nome: Criminal.Minds.Suspect.Behavior.S01E01.iTALiAN.HDTV.XviD-SiD.avi
Data: 12/08/2011 02:17:20
Dimensione: 366,946,304 bytes (349.947 MB)

[ Info generiche ]

Durata: 00:41:49 (2509.36 s)
Tipo di contenitore: AVI OpenDML
Streams totali: 2
Tipo stream n. 0: video
Tipo stream n. 1: audio
Audio streams: 1
ISFT: VirtualDubMod 1.5.10.2 (build 2540/release)
JUNK: VirtualDubMod build 2540/release

[ Dati rilevanti ]

Risoluzione: ALTA (624 x 352)
Larghezza: multipla di 16 (BENE)
Altezza: multipla di 32 (BENE)

[ Traccia video ]

FourCC: xvid/XVID
Risoluzione: 624 x 352
Frame aspect ratio: 39:22 = 1.772727 (~16:9)
Pixel aspect ratio: 1:1 = 1
Display aspect ratio: 39:22 = 1.772727 (~16:9)
Framerate: 25 fps
Frames totali: 62734
Stream size: 311,816,384 bytes
Bitrate: 994.090553 kbps
Qf: 0.181033
Key frames: 681 (0; 300; 305; 605; 786; … 62730)
Null frames: 0
Min key int: 1
Max key int: 300
Key int medio: 92.120411
Ritardo: 0 ms

[ Traccia audio ]

Audio tag: 0x55 (MP3)
Bitrate (contenitore): 162.848 kbps VBR
Canali (contenitore): 2
Frequenza (contenitore): 48000 Hz
Chunks: 104557
Stream size: 51,082,080 bytes
Preload: 504 ms
Max A/V diff: 520 ms
Tipo: MPEG-1 Layer III
Encoder: LAME3.90. (Made with BeSweet v1.5b30)
Chunk-aligned: Sì
Emphasis: none
Mode: joint stereo
Ritardo: 0 ms

[ Info sulla codifica MPEG4 ]

User data: DivX503b1393p
User data: XviD0062
Packed bitstream: Sì (*)
QPel: No
GMC: No
Interlaced: No
Aspect ratio: Square pixels
Quant type: H.263

[ Profile compliancy ]

Profilo da testare: MTK PAL 6000
Risoluzione: Ok
Framerate: Ok
Avvertenza: Se vuoi un rapporto più completo e preciso clicca su "Analisi DRF"

Rapporto generato da AVInaptic (18-11-2007) in data 12 ago 2011, h 09:35:13



IDEATORE: Chris Mundy, Edward Allen Bernero
ATTORI: Forest Whitaker, Janeane Garofalo, Matt Ryan, Michael Kelly, Beau Garrett, Kirsten Vangsness
Ruoli e Interpreti
PRODUZIONE: ABC Television Studio, CBS Television Studios
PAESE: USA 2011
GENERE: Drammatico
DURATA: 45 Min

Criminal Minds - Suspect Behavior: Destini incrociati


Filesonic.com

|

Wupload.com

|

Filepost.com


Archivio Episodi


Filesonic.com

Please DO NOT MIRROR
If you'll find that my links are dead please let me know through the Private Messages.
>>> Visit edi1967 Blog Here <<<