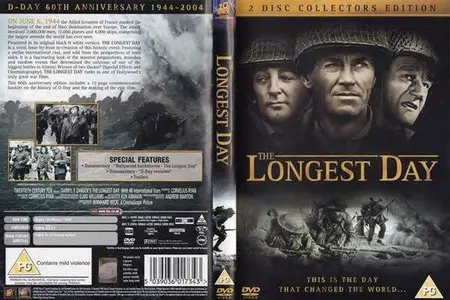 The Longest Day (1962) Collector's Edition
Il giorno più lungo
A Film by Ken Annakin, Gerd Oswald, Bernhard Wicki, Andrew Marton, Darryl F. Zanuck
DVD9+DVD5 | PAL | 2,35:1 | 16:9 | 720x576 | 02:51:03 | 5% Recovery | 6.88 GB + 2.11 GB
Languages Available: English, Italian Dolby Digital 5.0 / 2.0 AC3 | Subtitle: English, Italian
Subtitle DVD2: English, Italian, French, German, Spanish, Dutch
Extra: Menù, Scene Selection, Documentary, Theatrical Trailers
Genre: War, Drama, Action, History | Won 2 Oscars. Another 6 wins & 6 nominations
The Longest Day is filmed in the style of a docudrama. Beginning in the days leading up to D-Day, the film concentrates on events on both sides of the channel such as the Allies waiting for the break in the poor weather and the anticipation of the Axis forces defending northern France.



IMDB Rating: 7.8/10






The film pays particular attention to the decision by General Eisenhower, supreme commander of SHAEF, to go after reviewing the initial bad weather reports as well as the divisions within the German High Command on when an invasion might happen or what response to it should be.




Numerous scenes document the early hours of 6 June when Allied airborne troops were sent in to take key locations. The French resistance is also shown reacting to the news an invasion has started. The Longest Day chronicles most of the important events surrounding D-Day.




From the British glider missions to secure Pegasus Bridge, the counterattacks launched by American paratroopers scattered around Sainte-Mère-Église, the infiltration and sabotage work conducted by the French resistance and SOE agents, and the response by the Wehrmacht to the invasion and the uncertainty to whether it was a feint in preparation for crossings at the Pas de Calais (see Operation Fortitude).




Set piece scenes include the advance in shore from the Normandy beaches, the US Ranger Assault Group's assault on the Pointe du Hoc, the attack on Ouistreham by Free French Forces and the strafing of the beaches by two lone Luftwaffe pilots.




The film concludes with a montage showing various Allied units consolidating their beachheads before the advance inland begins to liberate France.




The Longest Day is a 1962 war film based on the 1959 history book The Longest Day by Cornelius Ryan, about D-Day, the Normandy landings on 6 June 1944, during World War II. Producer Darryl F. Zanuck paid the book's author, Cornelius Ryan, $175,000 for the film rights. The screenplay adaptation was written by Romain Gary, James Jones, David Pursall, Jack Seddon, and Ryan. It was directed by Ken Annakin (British and French exteriors), Andrew Marton (American exteriors), Gerd Oswald (parachute drop scene), Bernhard Wicki (German scenes), and Darryl F. Zanuck (uncredited).



Italian Storyline






Special Features

• Documentary: D-Day Revisited
• Theatrical Trailer



From Wikipedia

General
Complete name : VTS_01_0.IFO
Format : DVD Video
Format profile : Program
File size : 124 KiB
Duration : 2h 51mn
Overall bit rate mode : Variable
Overall bit rate : 99 bps

Video
ID : 224 (0xE0)
Format : MPEG Video
Format version : Version 2
Duration : 2h 51mn
Bit rate mode : Variable
Width : 720 pixels
Height : 576 pixels
Display aspect ratio : 16:9
Frame rate : 25.000 fps
Standard : PAL
Compression mode : Lossy

Audio #1
ID : 128 (0x80)
Format : AC-3
Format/Info : Audio Coding 3
Duration : 2h 51mn
Channel(s) : 5 channels
Sampling rate : 48.0 KHz
Compression mode : Lossy
Language : English

Audio #2
ID : 129 (0x81)
Format : AC-3
Format/Info : Audio Coding 3
Duration : 2h 51mn
Channel(s) : 2 channels
Sampling rate : 48.0 KHz
Compression mode : Lossy
Language : Italian

Text #1
ID : 32 (0x20)
Format : RLE
Format/Info : Run-length encoding
Bit depth : 2 bits
Language : English

Text #2
ID : 33 (0x21)
Format : RLE
Format/Info : Run-length encoding
Bit depth : 2 bits
Language : Italian

Text #3
ID : 34 (0x22)
Format : RLE
Format/Info : Run-length encoding
Bit depth : 2 bits
Language : English
Language, more info : Normal

Text #4
ID : 35 (0x23)
Format : RLE
Format/Info : Run-length encoding
Bit depth : 2 bits
Language : Italian
Language, more info : Normal


ORIGINAL TITLE:
The Longest Day
GENRE: War
Directed by: Ken Annakin, Gerd Oswald, Bernhard Wicki, Andrew Marton, Darryl F. Zanuck
SCREENPLAY: Romain Gary, James Jones, David Pursall, Jack Seddon, Cornelius Ryan
ACTORS
:
John Wayne, Robert Mitchum, Henry Fonda, Robert Ryan, Richard Todd, Rod Steiger, Richard Burton, Robert Wagner, Mel Ferrer, Jeffrey Hunter, Paul Anka, Sal Mineo, Sean Connery, Arletty, Bourvil, Fabian, Fred Dur, Peter Helm , Richard Wattis, Peter van Eyck
Cast
PHOTOGRAPHY: Jean Bourgoin, Pierre Levent, Henri Persin, Guy Tabary, Walter Wottitz
ASSEMBLY: Samuel E. Beetley
MUSIC: Maurice Jarre, Paul Anka
PRODUCTION: DARRYL F. Zanuck TO 20TH CENTURY FOX
DISTRIBUTION: FOX - DOMOVIDEO, 20TH CENTURY FOX HOME ENTERTAINMENT DVD-FOX
COUNTRY: USA 1962
DURATION: 180 Min
FORMAT: B / W Cinemascope
SUBJECT:
Homonymous book by Cornelius Ryan
NOTES:
- OUTSIDE BRITISH DIRECTOR: Ken Annakin. - AMERICAN DIRECTOR EXTERNAL: ANDREW MARTON. - SCENE GERMAN DIRECTOR: BERNHARD WICKI. - DIRECTOR PARACADUTSIT SCENE: GERD OSWALD. - DARRYL F. Zanuck NOT 'ACCREDITED. - 2 OSCAR AWARDS (1962): BEST PICTURE AND BEST VISUAL EFFECTS. - DAVID DI DONATELLO 1963 FOR BEST FOREIGN FILM.

Recovery Volumes (.rev)

Recovery volumes or .rev files are special files which can be created by WinRAR/RAR and allow you to reconstruct missing and damaged files in a volume set. They can
only be used with multi-volume archives.

This feature may be useful for backups or, for example, when you post a multivolume archive to a newsgroup and some of the subscribers did not receive some files. Reposting recovery volumes instead of usual volumes may reduce the total number of files to repost.

Each recovery volume is able to reconstruct one missing RAR volume. For example, if you have 30 volumes and 3 recovery volumes, you are able to reconstruct any 3 missing volumes. If the number of .rev files is less than a number of missing volumes, reconstructing is impossible. The total number of usual and recovery volumes must not exceed 255 and the number of recovery volumes must be less than the number of RAR volumes.

WinRAR reconstructs missing and damaged volumes either when clicking on .rev file, or when using rc command or automatically, if it cannot locate the next volume and finds the required number of .rev files when unpacking.

You may use the "Recovery volumes" option in the Archive name and parameters dialog or a similar option also appears in the Protect archive command to create recovery volumes. In the command line mode you may do it with -rv switch or rv command.

Original copies of damaged volumes are renamed to *.bad before reconstruction. For example, volname.part03.rar will be renamed to volname.part03.rar.bad.

From Win-rar.com
Please DO NOT MIRROR
If you'll find that my links are dead please let me know through the Private Messages.
&g... Blog Here <<<