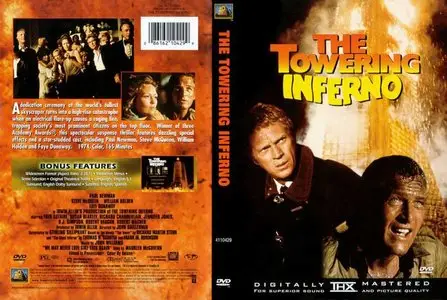 The Towering Inferno (1974)
L'inferno di cristallo - La Tour infernale
A Film by John Guillermin, Irwin Allen
DVD9 | VIDEO_TS | ISO | PAL | 1,85:1 | 16:9 | 720x576 | 02:38:16 | 5% Recovery | 6.96 GB
Languages Available: English, French, Italian Dolby Digital 2.0 AC3
Subtitle: Italian, English, French, Dutch, Arabic
Extra: Menù, Scene Selection, Theatrical Trailer
Genre: Drama, Thriller | Won 3 Oscars. Another 9 wins & 13 nominations
Architect Doug Roberts (Newman) returns to San Francisco for the dedication of the Glass Tower, which he designed for owner James Duncan (Holden). At 138 stories (1,800 ft/550 m), it is the world's tallest building. Shortly after his arrival, an electrical short starts an undetected fire on the 81st floor while Roberts accuses the building's electrical engineer, Roger Simmons (Chamberlain), of cutting corners. Simmons insists the building is up to standards.



IMDB Rating: 6.8/10






During the high-profile dedication ceremony, public relations chief Dan Bigelow (Wagner) is ordered to turn on all the tower's exterior lights to impress the attending guests and dignitaries. The lighting overloads the electrical system and Roberts orders it shut off. Smoke is seen on the 81st floor and the San Francisco Fire Department is summoned. Roberts and engineer Will Giddings (Norman Burton) go to the 81st floor but fail to prevent a security guard opening a door, leading to a fire flash which fatally burns Giddings.




Roberts reports the fire to a dismissive Duncan, who refuses to order an evacuation. Ill-equipped firefighters arrive to tackle the blaze. SFFD Chief Michael O'Hallorhan (McQueen) forces Duncan to evacuate the party guests in the Promenade Room on the 135th floor, directing them to express elevators. Lisolette Mueller (Jones), being wooed by con man Harlee Claiborne (Astaire), rushes to the 87th floor to check on two children. Simmons admits to Duncan that he cut corners to stay under budget.




Duncan, aided by Senator Parker (Vaughn) and Mayor Ramsey (Jack Collins), directs the elevator evacuation from the Promenade Room until the fire spreads and renders the express elevators unsafe. Not heeding Duncan's directions, one last group tries to use the elevator to get to the ground, but are killed when it stops on the fire's floor. As the blaze spreads, Bigelow and his secretary/mistress Lorrie (Flannery) are trapped in his 65th floor office and do not survive.




Security Chief Harry Jernigan (Simpson) and Roberts are informed that Mueller has been seen on 87. They head up to assist in the rescue of her and the two children, but are halted as a gas line explodes in a stairwell. They are forced back up towards the Promenade Room only to find a sealed door. Roberts escapes through a pipe shaft to alert rescuers. Firemen rescue Mueller and the children using C-4. With fire suppression efforts rapidly becoming ineffective, the building loses all electrical power and O'Hallorhan his men are forced to rappel down an elevator shaft.




A rooftop rescue results in disaster as guests rush the helicopter, causing it to crash, setting the roof ablaze and rendering further rooftop rescues impossible. Naval Rescue teams attach a breeches buoy to the adjacent Peerless Building and rescue a number of guests, including Duncan's daughter and Simmons' wife Patty (Blakely). Roberts rigs a gravity brake on a exterior scenic elevator and aids twelve people, including Roberts' girlfriend Susan (Dunaway), Mueller and the children, in heading downward. An explosion leaves the elevator hanging by a single cable at the 110th floor, where Mueller falls to her death. O'Hallorhan and others heroically save the rest.




The Towering Inferno is a 1974 American action disaster film produced by Irwin Allen featuring an all-star cast led by Steve McQueen and Paul Newman. The picture was directed by John Guillermin. A co-production between 20th Century Fox and Warner Bros. (this was the first film to be a joint venture from two major Hollywood studios), it was adapted by Stirling Silliphant from a pair of novels, The Tower by Richard Martin Stern and The Glass Inferno by Thomas N. Scortia and Frank M. Robinson.




The film was a critical success, earning a nomination for the Academy Award for Best Picture, and was the highest-grossing film released in 1974. The film was nominated for eight Oscars in all, winning three



Italian Storyline




French Storyline






Special Features

• Theatrical Trailer



From Wikipedia

General
Complete name : E:\VIDEO_TS\VTS_01_0.IFO
Format : DVD Video
Format profile : Program
File size : 94.0 KiB
Duration : 2h 38mn
Overall bit rate mode : Variable
Overall bit rate : 81 bps

Video
ID : 224 (0xE0)
Format : MPEG Video
Format version : Version 2
Duration : 2h 38mn
Bit rate mode : Variable
Width : 720 pixels
Height : 576 pixels
Display aspect ratio : 16:9
Frame rate : 25.000 fps
Standard : PAL
Compression mode : Lossy

Audio #1
ID : 128 (0x80)
Format : AC-3
Format/Info : Audio Coding 3
Duration : 2h 38mn
Channel(s) : 2 channels
Sampling rate : 48.0 KHz
Compression mode : Lossy
Language : English

Audio #2
ID : 129 (0x81)
Format : AC-3
Format/Info : Audio Coding 3
Duration : 2h 38mn
Channel(s) : 2 channels
Sampling rate : 48.0 KHz
Compression mode : Lossy
Language : French

Audio #3
ID : 130 (0x82)
Format : AC-3
Format/Info : Audio Coding 3
Duration : 2h 38mn
Channel(s) : 2 channels
Sampling rate : 48.0 KHz
Compression mode : Lossy
Language : Italian

Audio #4
Format : AC-3
Format/Info : Audio Coding 3
Duration : 2h 38mn
Channel(s) : 2 channels
Sampling rate : 48.0 KHz
Compression mode : Lossy
Language : English

Text #1
ID : 32 (0x20)
Format : RLE
Format/Info : Run-length encoding
Bit depth : 2 bits
Language : English

Text #2
ID : 33 (0x21)
Format : RLE
Format/Info : Run-length encoding
Bit depth : 2 bits
Language : French

Text #3
ID : 34 (0x22)
Format : RLE
Format/Info : Run-length encoding
Bit depth : 2 bits
Language : Italian

Text #4
ID : 35 (0x23)
Format : RLE
Format/Info : Run-length encoding
Bit depth : 2 bits
Language : Arabic

Text #5
ID : 36 (0x24)
Format : RLE
Format/Info : Run-length encoding
Bit depth : 2 bits
Language : Dutch

Text #6
ID : 37 (0x25)
Format : RLE
Format/Info : Run-length encoding
Bit depth : 2 bits
Language : English
Language, more info : Normal

Text #7
ID : 38 (0x26)
Format : RLE
Format/Info : Run-length encoding
Bit depth : 2 bits
Language : Italian
Language, more info : Normal


ORIGINAL TITLE:
The Towering Inferno
GENRE: Drama, Thriller
DIRECTOR: John Guillermin, Irwin Allen
Screenplay: Stirling Silliphant
ACTORS:
Steve McQueen, Paul Newman, William Holden, Faye Dunaway, Fred Astaire, Susan Blakely, Richard Chamberlain, Jennifer Jones, OJ Simpson, Robert Vaughn, Robert Wagner, Susan Flannery, Jack Collins, Don Gordon, Felton Perry, Gregory Sierra, Ann Leicester
Cast and Crew
PHOTOGRAPHY: Fred J. Koenekamp
ASSEMBLY: Carl Kress, Harold F. Kress
MUSIC: John Williams, Joel Hirschhorn, Al Kasha
PRODUCTION: IRWIN ALLEN FOR 20TH CENTURY FOX, WARNER BROS
DISTRIBUTION: PIC - WARNER HOME VIDEO (MINI SHIELDS)
COUNTRY: USA 1974
DURATION: 165 Min
FORMAT: Color PANAVISION TECHNICOLOR, DELUXE
SUBJECT:
BOOK "THE TOWER" BY RICHARD MARTIN STERN AND ON "THE GLASS INFERNO" THOMAS N. Scortia AND FRANK M. ROBINSON
NOTES:
- IRWIN ALLEN HAS DIRECTED THE STUNTS. - OSCAR IN 1974 FOR BEST PHOTOGRAPHY, BEST SONG, BEST EDITING. - David di Donatello 1975 FOR BEST FOREIGN FILM A IRWIN ALLEN.

Recovery Volumes (.rev)

Recovery volumes or .rev files are special files which can be created by WinRAR/RAR and allow you to reconstruct missing and damaged files in a volume set. They can
only be used with multi-volume archives.

This feature may be useful for backups or, for example, when you post a multivolume archive to a newsgroup and some of the subscribers did not receive some files. Reposting recovery volumes instead of usual volumes may reduce the total number of files to repost.

Each recovery volume is able to reconstruct one missing RAR volume. For example, if you have 30 volumes and 3 recovery volumes, you are able to reconstruct any 3 missing volumes. If the number of .rev files is less than a number of missing volumes, reconstructing is impossible. The total number of usual and recovery volumes must not exceed 255 and the number of recovery volumes must be less than the number of RAR volumes.

WinRAR reconstructs missing and damaged volumes either when clicking on .rev file, or when using rc command or automatically, if it cannot locate the next volume and finds the required number of .rev files when unpacking.

You may use the "Recovery volumes" option in the Archive name and parameters dialog or a similar option also appears in the Protect archive command to create recovery volumes. In the command line mode you may do it with -rv switch or rv command.

Original copies of damaged volumes are renamed to *.bad before reconstruction. For example, volname.part03.rar will be renamed to volname.part03.rar.bad.

From Win-rar.com
Click HERE for my others DVD Movies
Please DO NOT MIRROR
If you'll find that my links are dead please let me know through the Private Messages.
>>> Visit My Blog Here <<<