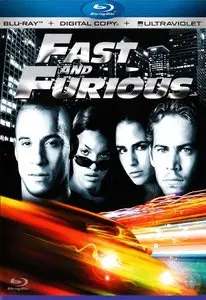 Fast and Furious (2001)
The Fast and the Furious
A Film by Rob Cohen
BRrip | MPEG-4 Visual | AVI | 720x304 | Xvid @ 1187 Kbps | 01:46:51 | 5% Recovery | 1.4 GB
Languages Available: Italian AC3 @ 640 Kbps CBR | Subtitle: English, French, Italian (.srt)
Genre: Action, Thriller | 9 wins & 12 nominations
Dominic Toretto guida per le strade di Los Angeles come se gli appartenessero, e per quelli della sua banda è proprio così. Di giorno si dedica interamente a potentissime macchine da corsa, casa di fabbricazione e modello non contano, ciò che importa è l'iniezione computerizzata che le fa volare. Di notte, Dom si mette al volante del suo razzo da strada, intascandosi fino a diecimila dollari a gara, quando qualcuno ha il coraggio di sfidarlo. Le gare di accelerazione, sono veri spettacoli da strada, raduni tribali e campi di battaglia, resi ancor più emozionanti dall'adrenalina, dalla tensione sessuale e da una velocità folle, incontrollata. Una folla si riversa su strade altrimenti desolate per incitare i propri beniamini, schernire gli avversari e provare un senso di appartenenza. Dominic avanza come una rock star in questa scena ad alto numero di ottano ai margini della legalità dominata dal ruggito famelico dei motori di cui presto verranno testati i limiti. Anche Brian è stregato, famelico e desideroso di mettersi alla prova. Proclama con orgoglio di venire dalla strada, ma agli occhi di questa folla è solo un ragazzino. Dietro al volante della sua potentissima muscle car alimentata a protossido d'azoto, cerca con lo sguardo l'approvazione di Dominic.
IMDB Rating: 6.4/10
.: Storyline :.
Los Angeles street racer Dominic Toretto falls under the suspicion of the LAPD as a string of high-speed electronics truck robberies rocks the area. Brian O'Connor, an officer of the LAPD, joins the ranks of Toretto's highly skilled racing crew undercover to convict Toretto. However, O'Connor finds himself both enamored with this new world and in love with Toretto's sister, Mia. As a rival racing crew gains strength, O'Connor must decide where his


[ About file ]

Name: Fast.And.Furious.2001.iTALiAN.BRRip.XviD-EgL.avi
Date: Fri, 27 Jul 2012 10:17:39 +0200
Size: 1,472,133,120 bytes (1403.936 MiB)
Note: Analysis not complete

[ Generic infos ]

Duration: 01:46:51 (6410.956 s)
Container: AVI OpenDML
AVI has index: Yes
Total tracks: 2
Track nr. 0: video
Track nr. 1: audio
ISFT: VirtualDubMod 1.5.10.2 (build 2540/release)
Junk: VirtualDubMod build 2540/release

[ Relevant data ]

Resolution: HIGH (720 x 304)
Width: multiple of 16 (GOOD)
Height: multiple of 16 (GOOD)

[ Video track ]

FourCC: xvid/XVID
Resolution: 720 x 304
Frame aspect ratio: 45:19 = 2.368 (~2.35:1)
Pixel aspect ratio: 1:1 = 1
Display aspect ratio: 45:19 = 2.368 (~2.35:1)
Framerate: 23.976 fps
Total frames: 153,709
Stream size: 951,686,555 bytes (907.599 MiB)
Bitrate: 1187.576 kbps
Qf: 0.226
Key frames: 2,312 (0; 300; 600; 758; 849; … 153707)
Null frames: 0
Min key int: 1
Max key int: 300
Avg key int: 66.483
Delay: 0 ms

[ Audio track ]

Audio tag: 0x2000 (AC3)
Channels: 6
Chunks: 153,699
Stream size: 512,876,516 bytes (489.117 MiB)
Bitstream type (bs): AC3
Chunk-aligned (bs): No
Bitrate (bs): 640 kbps CBR
Sampling frequency (bs): 48000 Hz
Mode (bs): 3 front, 2 rear, 1 LFE
Preload: 480 ms
Max A/V diff: 498 ms
Delay: 0 ms

[ Video bitstream ]

Bitstream type: MPEG-4 Part 2
User data: XviD0047
QPel: No
GMC: No
Interlaced: No
Aspect ratio: Square pixels
Quant type: MPEG

[ Profile compliancy ]

Selected profile: MTK PAL 6000
Resolution: Ok
Framerate: 23.976 <> 25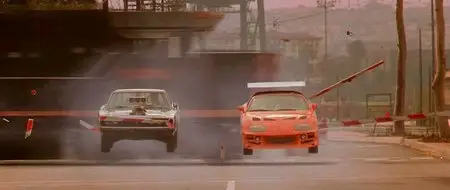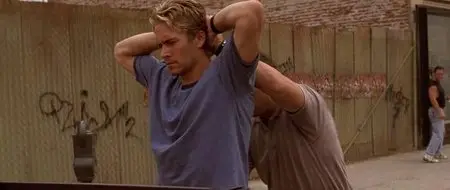 TITOLO ORIGINALE:
The Fast and the Furious
USCITA CINEMA: 21/09/2001
GENERE: Azione, Thriller
REGIA: Rob Cohen
SCENEGGIATURA: David Ayer, Erik Bergquist, Gary Scott Thompson
ATTORI:
Paul Walker, Vin Diesel, Michelle Rodriguez, Jordana Brewster, Rick Yune, Chad Lindberg, Johnny Strong, Matt Schulze, Ja Rule, Ted Levine
Ruoli ed Interpreti
FOTOGRAFIA: Ericson Core
MONTAGGIO: Peter Honess
MUSICHE: Brian Tyler
PRODUZIONE: Original Film
DISTRIBUZIONE: UIP
PAESE: USA 2001
DURATA: 106 Min
FORMATO: Colore
Info
:
From comingsoon.it

Recovery Volumes (.rev)

Recovery volumes or .rev files are special files which can be created by WinRAR/RAR and allow you to reconstruct missing and damaged files in a volume set. They can
only be used with multi-volume archives.

This feature may be useful for backups or, for example, when you post a multivolume archive to a newsgroup and some of the subscribers did not receive some files. Reposting recovery volumes instead of usual volumes may reduce the total number of files to repost.

Each recovery volume is able to reconstruct one missing RAR volume. For example, if you have 30 volumes and 3 recovery volumes, you are able to reconstruct any 3 missing volumes. If the number of .rev files is less than a number of missing volumes, reconstructing is impossible. The total number of usual and recovery volumes must not exceed 255 and the number of recovery volumes must be less than the number of RAR volumes.

WinRAR reconstructs missing and damaged volumes either when clicking on .rev file, or when using rc command or automatically, if it cannot locate the next volume and finds the required number of .rev files when unpacking.

You may use the "Recovery volumes" option in the Archive name and parameters dialog or a similar option also appears in the Protect archive command to create recovery volumes. In the command line mode you may do it with -rv switch or rv command.

Original copies of damaged volumes are renamed to *.bad before reconstruction. For example, volname.part03.rar will be renamed to volname.part03.rar.bad.

From Win-rar.com
Please DO NOT MIRROR
If you'll find that my links are dead please let me know through the Private Messages.
>>> Visit My Blog Here <<<
Subscribe to My Newsletter!