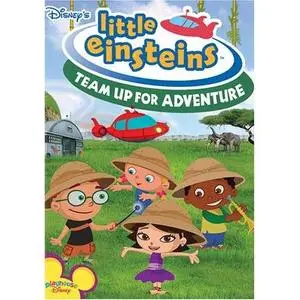 Disney's Little Einsteins - Team Up for Adventure
AVI DivX | Video: 176 Kbps, 576 x 416 | MP3 128 Kbps
3 x 249 MB | 3 x 24 min | English, Italian and French audio
Classical music and famous artwork might not sound like the most promising recipe for a children's show, but this trio of Little Einsteins episodes makes music and art exciting and accessible to children ages two to seven. Little Einsteins' Leo, Annie, Quincy and June are known for their world-traversing missions, but "How We Became the Little Einsteins" tells the story of how a small rocket ship hanging from Leo's crib mobile initially inspired the group's first mission. Naturally, that mission takes the group around the world, exposing them to the music of Antonin Dvorak and the art of John Singer Sargent, and acquainting them with important musical concepts like high and low and accelerando. "I Love to Conduct" follows a bald eagle with Leo's baton in its clutches to Washington State, exploring the art of Edward Hicks and the music of Edvard Grieg along the way as well as encountering musical terms like crescendo and diminuendo. "Rocket Safari" takes the group to Africa where Rocket gets stuck between the rocks of a waterfall. The gang follows a real "Flight of the Bumblebee" (music by Nikolay Rimsky-Korsakov), learning about fortissimo and pianissimo, and enlists the help of a host of animals including a rhinoceros by Albrecht Durer to free their friend Rocket. Little Einstein productions effectively blend computer animation and live action photography and always encourage audience participation by inviting young viewers to clap, conduct and sing along.