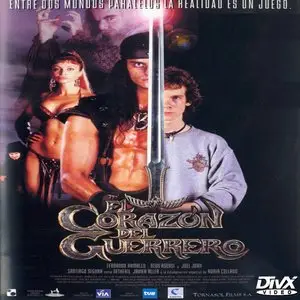 El corazón del guerrero (2000)
RIP+UP | Divx5 | mp3@128 | 765x408 | Spanish (English + Portuguese + Spanish sub.idx) | 1h49 | 794 MB
Spain 2000
Directed by: Daniel Monzon
Cast:
Fernando Ramallo, Neus Asensi, Joel Joan, Santiago Segura
Beldar y Sonja, una pareja de ladrones pertenecientes al legendario universo de la Espada y brujería roban una piedra preciosa con forma de corazón humano en la tétrica cripta de la Orden de Los Mil Ojos, una maléfica secta de todopoderosos brujos. Al huir del lugar se dan cuenta de que la gema está maldita y les ha transmitido su hechizo. Tras perder el sentido, Beldar despierta en otro mundo, metamorfoseado en el cuerpo de un adolescente madrileño de dieciséis años comido por el acné: Ramón Belda (Fernando Ramallo), un chico con una imaginación desbordante y asaltado por continuas visiones que se corresponden con las partidas de rol que juega cada noche en compañía de sus amigos. Ramón es un adolescente apocado y debilucho, pero en su imaginación se ve luchando contra todo tipo de peligros. Peligros que, poco a poco, se irán haciendo reales y conectarán el Madrid actual con un Universo en el que Ramón es el Elegido para una misión de dimensiones épicas...
, director Daniel Monzon debuts with this delirious film about a teenager shifting between grim reality and the much more alluring world of fantasy. The film opens with the muscle-bound Beldar (Joel Joan) and the vivacious Sonja (Neus Asensi) decapitating monsters and interpreting ancient languages in a dank labyrinth as they hunt for a legendary gem called the Heart of the Warrior. Without it, Beldar is cursed. Just before the dynamic duo meets their demise, Ramon (Fernando Ramallo), a pimply teenager, awakes from a dream. We learn that Beldar and Sonja are characters in a Dungeons and Dragons-style role playing game that Ramon plays along with Victor (Juan Diaz) and the perpetually horny Javi (Jaime Barnatan). As the film progresses, Ramon's intense fantasy world begins to bleed into reality.