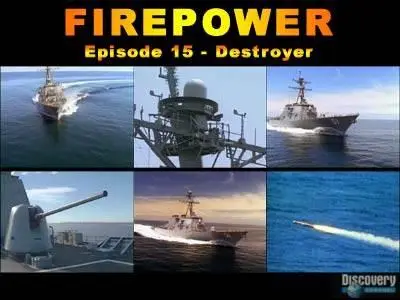 FIREPOWER
Rapidshare | E-Mule
Discovery Channel
233.01 Mb | 00:23:28.959
Video: 592x448 (1.32:1), 25 fps, XviD build 41 ~1314 kbps avg, 0.20 bit/pixel
Audio: 24 kHz, MPEG Layer 3, 2 ch, ~59.70 kbps avg
Язык: Английский | Language: English
The destroyer has long been the workhorse of modern navies. Come aboard its latest incarnation, the US Navy's DDG-51 Arleigh Burke. Wearing many hats in the naval theater of operations, from fleet air defense to anti-submarine warfare, its deadly combination of missiles and electronic sensors make it as formidable ship as ever before.
FTP2Share
LinkFile
Password:
FirePower
eMule
Episode 15
<br /><a href="http://cutt.red/iemieJiw6eeJ?search=FIREPOWER.%20Episode%2015%20-%20Destroyer" rel="nofollow noopener" onclick="log_click('FIREPOWER.%20Episode%2015%20-%20Destroyer', 'cutt.red'); return true;" target="_blank" rel="nofollow noopener noreferrer">Episode 1 - Assault from the Sea</a><br /><a href="http://cutt.red/iemieJiw6eeJ?search=FIREPOWER.%20Episode%2015%20-%20Destroyer" rel="nofollow noopener" onclick="log_click('FIREPOWER.%20Episode%2015%20-%20Destroyer', 'cutt.red'); return true;" target="_blank" rel="nofollow noopener noreferrer">Episode 2 - Artillery Strike</a><br /><a href="http://cutt.red/iemieJiw6eeJ?search=FIREPOWER.%20Episode%2015%20-%20Destroyer" rel="nofollow noopener" onclick="log_click('FIREPOWER.%20Episode%2015%20-%20Destroyer', 'cutt.red'); return true;" target="_blank" rel="nofollow noopener noreferrer">Episode 3 - Battle Tanks</a><br /><a href="http://cutt.red/iemieJiw6eeJ?search=FIREPOWER.%20Episode%2015%20-%20Destroyer" rel="nofollow noopener" onclick="log_click('FIREPOWER.%20Episode%2015%20-%20Destroyer', 'cutt.red'); return true;" target="_blank" rel="nofollow noopener noreferrer">Episode 4 - Missile Copter</a><br /><a href="http://cutt.red/iemieJiw6eeJ?search=FIREPOWER.%20Episode%2015%20-%20Destroyer" rel="nofollow noopener" onclick="log_click('FIREPOWER.%20Episode%2015%20-%20Destroyer', 'cutt.red'); return true;" target="_blank" rel="nofollow noopener noreferrer">Episode 5 - Special Ops: Wings</a><br /><a href="http://cutt.red/iemieJiw6eeJ?search=FIREPOWER.%20Episode%2015%20-%20Destroyer" rel="nofollow noopener" onclick="log_click('FIREPOWER.%20Episode%2015%20-%20Destroyer', 'cutt.red'); return true;" target="_blank" rel="nofollow noopener noreferrer">Episode 6 - Royal Air Force</a><br /><a href="http://cutt.red/iemieJiw6eeJ?search=FIREPOWER.%20Episode%2015%20-%20Destroyer" rel="nofollow noopener" onclick="log_click('FIREPOWER.%20Episode%2015%20-%20Destroyer', 'cutt.red'); return true;" target="_blank" rel="nofollow noopener noreferrer">Episode 7 - Airborne Assault</a><br /><a href="http://cutt.red/iemieJiw6eeJ?search=FIREPOWER.%20Episode%2015%20-%20Destroyer" rel="nofollow noopener" onclick="log_click('FIREPOWER.%20Episode%2015%20-%20Destroyer', 'cutt.red'); return true;" target="_blank" rel="nofollow noopener noreferrer">Episode 8 - Strike Fighters</a><br /><a href="http://cutt.red/iemieJiw6eeJ?search=FIREPOWER.%20Episode%2015%20-%20Destroyer" rel="nofollow noopener" onclick="log_click('FIREPOWER.%20Episode%2015%20-%20Destroyer', 'cutt.red'); return true;" target="_blank" rel="nofollow noopener noreferrer">Episode 9 - War on Wheels</a><br /><a href="http://cutt.red/iemieJiw6eeJ?search=FIREPOWER.%20Episode%2015%20-%20Destroyer" rel="nofollow noopener" onclick="log_click('FIREPOWER.%20Episode%2015%20-%20Destroyer', 'cutt.red'); return true;" target="_blank" rel="nofollow noopener noreferrer">Episode 10 - Mirage Jet</a><br /><a href="http://cutt.red/iemieJiw6eeJ?search=FIREPOWER.%20Episode%2015%20-%20Destroyer" rel="nofollow noopener" onclick="log_click('FIREPOWER.%20Episode%2015%20-%20Destroyer', 'cutt.red'); return true;" target="_blank" rel="nofollow noopener noreferrer">Episode 11 - Combat Vehicles</a><br /><a href="http://cutt.red/iemieJiw6eeJ?search=FIREPOWER.%20Episode%2015%20-%20Destroyer" rel="nofollow noopener" onclick="log_click('FIREPOWER.%20Episode%2015%20-%20Destroyer', 'cutt.red'); return true;" target="_blank" rel="nofollow noopener noreferrer">Episode 12 - Armor Force</a><br /><a href="http://cutt.red/iemieJiw6eeJ?search=FIREPOWER.%20Episode%2015%20-%20Destroyer" rel="nofollow noopener" onclick="log_click('FIREPOWER.%20Episode%2015%20-%20Destroyer', 'cutt.red'); return true;" target="_blank" rel="nofollow noopener noreferrer">Episode 13 - Desert War Games</a><br /><a href="http://cutt.red/iemieJiw6eeJ?search=FIREPOWER.%20Episode%2015%20-%20Destroyer" rel="nofollow noopener" onclick="log_click('FIREPOWER.%20Episode%2015%20-%20Destroyer', 'cutt.red'); return true;" target="_blank" rel="nofollow noopener noreferrer">Episode 14 - Armored Vanguard</a><br />