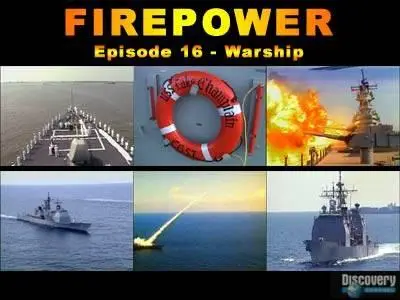 FIREPOWER
Rapidshare | E-Mule
Discovery Channel
233.01 Mb | 00:22:56.839
Video: 576x432 (1.33:1), 25 fps, XviD build 41 ~1345 kbps avg, 0.22 bit/pixel
Audio: 24 kHz, MPEG Layer 3, 2 ch, ~60.31 kbps avg
Язык: Английский | Language: English
The US Navy's Aegis cruisers are the most lethal warships sailing the seas today. Come aboard the Ticonderoga Class USS Lake Champlain, and explore the secrets of this masterpiece of warship technology. From its ultra-high-tech electronic sensors to its anti-ship missiles, see what makes the Aegis cruiser a threat even from miles away. Meet the crew of the Champlain as they talk about what its like to serve on board a missile cruiser.
FTP2Share
LinkFile
Password:
FirePower
eMule
Episode 16
<br /><a href="http://cutt.red/iemieJiw6eeJ?search=FIREPOWER.%20Episode%2016%20-%20Warship" rel="nofollow noopener" onclick="log_click('FIREPOWER.%20Episode%2016%20-%20Warship', 'cutt.red'); return true;" target="_blank" rel="nofollow noopener noreferrer">Episode 1 - Assault from the Sea</a><br /><a href="http://cutt.red/iemieJiw6eeJ?search=FIREPOWER.%20Episode%2016%20-%20Warship" rel="nofollow noopener" onclick="log_click('FIREPOWER.%20Episode%2016%20-%20Warship', 'cutt.red'); return true;" target="_blank" rel="nofollow noopener noreferrer">Episode 2 - Artillery Strike</a><br /><a href="http://cutt.red/iemieJiw6eeJ?search=FIREPOWER.%20Episode%2016%20-%20Warship" rel="nofollow noopener" onclick="log_click('FIREPOWER.%20Episode%2016%20-%20Warship', 'cutt.red'); return true;" target="_blank" rel="nofollow noopener noreferrer">Episode 3 - Battle Tanks</a><br /><a href="http://cutt.red/iemieJiw6eeJ?search=FIREPOWER.%20Episode%2016%20-%20Warship" rel="nofollow noopener" onclick="log_click('FIREPOWER.%20Episode%2016%20-%20Warship', 'cutt.red'); return true;" target="_blank" rel="nofollow noopener noreferrer">Episode 4 - Missile Copter</a><br /><a href="http://cutt.red/iemieJiw6eeJ?search=FIREPOWER.%20Episode%2016%20-%20Warship" rel="nofollow noopener" onclick="log_click('FIREPOWER.%20Episode%2016%20-%20Warship', 'cutt.red'); return true;" target="_blank" rel="nofollow noopener noreferrer">Episode 5 - Special Ops: Wings</a><br /><a href="http://cutt.red/iemieJiw6eeJ?search=FIREPOWER.%20Episode%2016%20-%20Warship" rel="nofollow noopener" onclick="log_click('FIREPOWER.%20Episode%2016%20-%20Warship', 'cutt.red'); return true;" target="_blank" rel="nofollow noopener noreferrer">Episode 6 - Royal Air Force</a><br /><a href="http://cutt.red/iemieJiw6eeJ?search=FIREPOWER.%20Episode%2016%20-%20Warship" rel="nofollow noopener" onclick="log_click('FIREPOWER.%20Episode%2016%20-%20Warship', 'cutt.red'); return true;" target="_blank" rel="nofollow noopener noreferrer">Episode 7 - Airborne Assault</a><br /><a href="http://cutt.red/iemieJiw6eeJ?search=FIREPOWER.%20Episode%2016%20-%20Warship" rel="nofollow noopener" onclick="log_click('FIREPOWER.%20Episode%2016%20-%20Warship', 'cutt.red'); return true;" target="_blank" rel="nofollow noopener noreferrer">Episode 8 - Strike Fighters</a><br /><a href="http://cutt.red/iemieJiw6eeJ?search=FIREPOWER.%20Episode%2016%20-%20Warship" rel="nofollow noopener" onclick="log_click('FIREPOWER.%20Episode%2016%20-%20Warship', 'cutt.red'); return true;" target="_blank" rel="nofollow noopener noreferrer">Episode 9 - War on Wheels</a><br /><a href="http://cutt.red/iemieJiw6eeJ?search=FIREPOWER.%20Episode%2016%20-%20Warship" rel="nofollow noopener" onclick="log_click('FIREPOWER.%20Episode%2016%20-%20Warship', 'cutt.red'); return true;" target="_blank" rel="nofollow noopener noreferrer">Episode 10 - Mirage Jet</a><br /><a href="http://cutt.red/iemieJiw6eeJ?search=FIREPOWER.%20Episode%2016%20-%20Warship" rel="nofollow noopener" onclick="log_click('FIREPOWER.%20Episode%2016%20-%20Warship', 'cutt.red'); return true;" target="_blank" rel="nofollow noopener noreferrer">Episode 11 - Combat Vehicles</a><br /><a href="http://cutt.red/iemieJiw6eeJ?search=FIREPOWER.%20Episode%2016%20-%20Warship" rel="nofollow noopener" onclick="log_click('FIREPOWER.%20Episode%2016%20-%20Warship', 'cutt.red'); return true;" target="_blank" rel="nofollow noopener noreferrer">Episode 12 - Armor Force</a><br /><a href="http://cutt.red/iemieJiw6eeJ?search=FIREPOWER.%20Episode%2016%20-%20Warship" rel="nofollow noopener" onclick="log_click('FIREPOWER.%20Episode%2016%20-%20Warship', 'cutt.red'); return true;" target="_blank" rel="nofollow noopener noreferrer">Episode 13 - Desert War Games</a><br /><a href="http://cutt.red/iemieJiw6eeJ?search=FIREPOWER.%20Episode%2016%20-%20Warship" rel="nofollow noopener" onclick="log_click('FIREPOWER.%20Episode%2016%20-%20Warship', 'cutt.red'); return true;" target="_blank" rel="nofollow noopener noreferrer">Episode 14 - Armored Vanguard</a><br /><a href="http://cutt.red/iemieJiw6eeJ?search=FIREPOWER.%20Episode%2016%20-%20Warship" rel="nofollow noopener" onclick="log_click('FIREPOWER.%20Episode%2016%20-%20Warship', 'cutt.red'); return true;" target="_blank" rel="nofollow noopener noreferrer">Episode 15 - Destroyer</a><br />