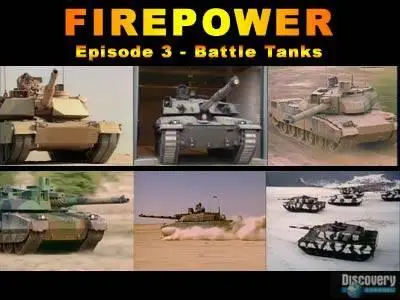 FIREPOWER
Rapidshare | E-Mule
Discovery Channel
232.99 Mb | 00:24:59.119
Video: 512x384 (1.33:1), 25 fps, XviD build 41 ~1230 kbps avg, 0.25 bit/pixel
Audio: 24 kHz, MPEG Layer 3, 2 ch, ~59.92 kbps avg
Язык: Английский | Language: English
Even in the face of precision guided missiles, tanks have continued to dominate the battlefield. Today's battle tanks are high-technology war machines, with everything from depleted-uranium armor to computer-aimed guns. Take a look at today's most potent main battle tanks from around the world: the sleek M1 Abrams, the British Challenger, the French LeClerc, and the German Leopard 2.
FTP2Share
LinkFile
Password:
FirePower
eMule
Episode 3
<br /><a href="http://cutt.red/iemieJiw6eeJ?search=FIREPOWER.%20Episode%203%20-%20Battle%20Tanks" rel="nofollow noopener" onclick="log_click('FIREPOWER.%20Episode%203%20-%20Battle%20Tanks', 'cutt.red'); return true;" target="_blank" rel="nofollow noopener noreferrer">Episode 1 - Assault from the Sea</a><br /><a href="http://cutt.red/iemieJiw6eeJ?search=FIREPOWER.%20Episode%203%20-%20Battle%20Tanks" rel="nofollow noopener" onclick="log_click('FIREPOWER.%20Episode%203%20-%20Battle%20Tanks', 'cutt.red'); return true;" target="_blank" rel="nofollow noopener noreferrer">Episode 2 - Artillery Strike</a><br />