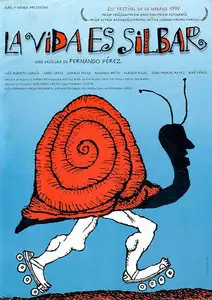 La Vida es silbar (La Vie c'est Siffler) 1998
DVDrip | XviD-1102 | mp3@128 | 656x368 | Audio: Spanish | Subs: English, French srt + French idx/sub | DVD Cover & Sticker | 1h41 | 900 Mb
Drama | CUBA 1998 | Director Fernando PEREZ
Cast: José Andrade (Obrero Teatro) Maudelet Badia (Odalisca 2) Elena Bolaños (Anciana Asilo) Rolando Brito (Dr. Fernando) Alina Canizares (Profesora 1) Annieye Cárdenas (Desmayados) Leandro Carfuso (Elpidito)
Bebé, una muchacha de 18 años, es feliz y no entiende por qué los demás no lo son. Ella relata las historias de Mariana, Julia y Elpidio, tres personajes que no son felices en La Habana de este fin de siglo. Mariana es una joven bailarina que por conseguir el papel de Giselle promete a Dios no acostarse con ningún hombre. La pasión de Julia es hacer el bien a los demás y los animales hasta que un día comienza a padecer extraños desmayos. Elpidio es un joven mulato músico que fue abandonado por su madre y se pregunta por el futuro de Cuba.
Bébé, jeune cubaine comblée, décide de partager son bonheur et de rendre heureux 3 personnes de son choix : Elpidio Valdès, un pêcheur, Julia qui a refoulé l'abandon de son bébé et qui s'évanouit à la prononciention du mot "sexe", et Mariana, danseuse classique qui prie pour réussir.
Combining surrealism, humor and insightful drama, Life Is To Whistle alternates between the romantic mishaps of three troubled people living in Havana: Mariana, a lusty young ballerina who takes a soon-to-be regrettable vow of chastity to land a coveted role: Hunky musician Elpidio, a modern-day buccaneer who steals the wallets and the hearts of visiting tourists; and Julia, a sensitive social worker who literally faints at the very mention of the word "sex". As they converge towards a momentous finale, the three lost souls interlock while reaching towards reconciliation, inclusion and healing.A Magical blend of intriguing visuals and powerful music, Life is To Whistle is a charming life-affirming film about the ever-present search for happiness.
Général
Nom complet : K:\La Vida es silbar 1998.DVDrip.by_Galmuchet.avi
Format : AVI
Format/Info : Audio Video Interleave
Taille du fichier : 900 Mio
Durée : 1h 41mn
Débit global moyen : 1 240 Kbps
Application utilisée : FairUse Wizard -
http://fairusewizard.com
Bibliothèque utilisée : The best and REALLY easy backup tool
Vidéo
ID : 0
Format : MPEG-4 Visual
Profil du format : Advanced Simple@L5
Paramètres du format, BVOP : 1
Paramètres du format, QPel : Non
Paramètres du format, GMC : Pas de warppoints
Paramètres du format, Matrice : Default (MPEG)
Type de muxing : Packed bitstream
Identifiant du codec : XVID
Identifiant du codec/Suggestion : XviD
Durée : 1h 41mn
Débit : 1 102 Kbps
Largeur : 656 pixels
Hauteur : 368 pixels
Format à l'écran : 16/9
Images par seconde : 25,000 Im/s
Espace de couleurs : YUV
Sous-échantillonnage de la chrominance : 4:2:0
Profondeur des couleurs : 8 bits
Type d'image : Progressif
Mode de compression : Avec perte
Bits/(Pixel*Image) : 0.183
Taille du flux : 800 Mio (89%)
Bibliothèque utilisée : XviD 1.2.0.dev47 (UTC 2006-11-01)
Audio
ID : 1
Format : MPEG Audio
Version du format : Version 1
Profil du format : Layer 3
Paramètres du format, Mode : Joint stereo
Identifiant du codec : 55
Identifiant du codec/Suggestion : MP3
Durée : 1h 41mn
Type de débit : Constant
Débit : 128 Kbps
Canaux : 2 canaux
Echantillonnage : 48,0 KHz
Mode de compression : Avec perte
Taille du flux : 92,9 Mio (10%)
Alignement : Alignée sur les interleaves
Imbrication, durée : 40 ms (1,00 image vidéo)
Imbrication, d. de pré-chargement : 504 ms
Bibliothèque utilisée : LAME3.97
Paramètres d'encodage : -m j -V 4 -q 2 -lowpass 17 -b 128
Grand Prix du Festival de La Havane 1999
IMDB
For the Frenchies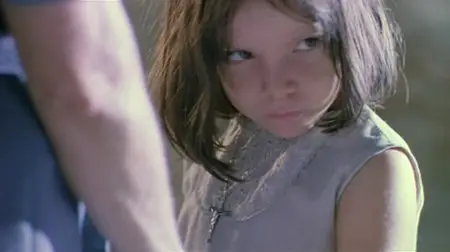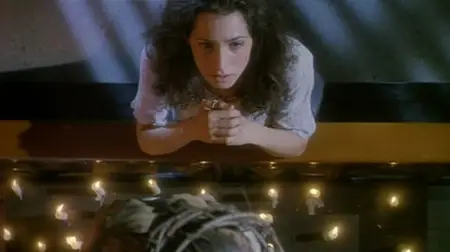 Screenshots with MPC (Click to enlarge)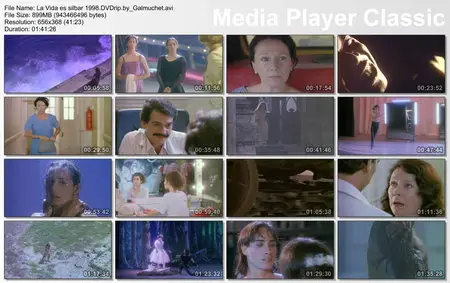 Click –-> Galmuchet blog