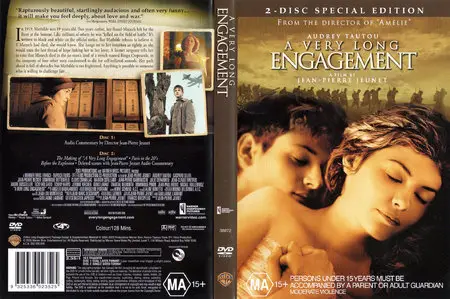 Un long dimanche de fiancailles (2004) Special Edition
DVD9+DVD5 | VIDEO_TS | NTSC, 16:9 (720x480) VBR | 02:13:12 | 11.24 Gb
Audio: Français AC3 5.1 @ 448 Kbps; Português AC3 5.1 @ 384 Kbps | Subs: Español, Português, English
Genre: Drama, Romance, War
Audrey Tautou, who rose to international stardom with the title role in Jean-Pierre Jeunet's worldwide smash Amelie, reunites with the director for this drama, set during the darkest days of World War I and its immediate aftermath. Mathilde (Tautou) is a pretty but frail young women who was left with a bad leg after a childhood bout with polio. Mathilde lives in a small French village with her Aunt Benedicte (Chantal Neuwirth) and Uncle Sylvain (Dominique Pinon), and is engaged to marry Manech (Gaspard Ulliel), the son of a lighthouse keeper who is fighting with the army near the German front. Manech is one of five soldiers who have been accused of injuring themselves in order to be sent home; in order to discourage similar behavior among their comrades, Manech and the other soldiers are sentenced to death, and the condemned men are marched into the no man's land between the French and German lines, where they are certain to be killed. Mathilde receives word of Manech's death, but in her heart she believes that if the man she loved had been killed, she would know it and feel it.