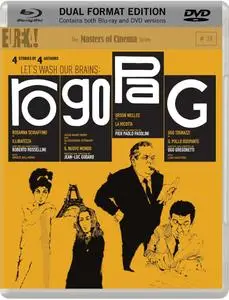 Ro.Go.Pa.G. (1963) [EUREKA! / MoC (Masters of Cinema), #38]
BDRip 1080p | MKV | AVC, 1920x1040, ~ 4.1 Mbps | 2hr 02mn | 3.93 GB | Italian (Italiano): DTS, 2 ch, 510 kbps
BDRip 720p | MKV | AVC, 1280x692, ~ 2.9 Mbps | 2hr 02mn | 2.80 GB | Italian (Italiano): AC3, 2 ch, 384 kbps
Subtitles: English
Genre: Comedy, Drama | Directors: Jean-Luc Godard, Ugo Gregoretti, Pier Paolo Pasolini, Roberto Rossellini
4 short films by a quartet of directors. Rosselini's 'Chastity' ('Illibatezza') deals with an attractive air hostess who receives the unwelcome attentions of a middle aged American. Godard's 'New World' ('Il Nuovo Mondo') illustrates a post-apocalyptic world the same as the pre-apocalyptic one, but for an enigmatic change in attitude in most people, including the central character's girlfriend. Pasolini's 'Curd Cheese' ('La Ricotta'), a lavish film about the life of Jesus Christ is being made in a poor area. The people subject themselves to various indignities in the name of moviemaking (and to get some food). The central character's hoisted up on a cross for filming, and dies there. Finally, Gregoretti's 'Free Range Chicken' ('Il Pollo Ruspante') in which a materialist family inadvertently shows the cynical, metallic-voiced doctrine of a top sales theorist.