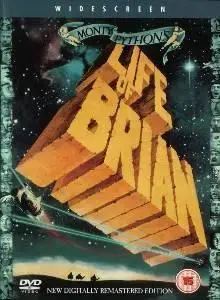 Monty Python - Life Of Brian (La Vie de Brian) - 1979
DVD-Rip with FairUse | English + Sous-titres Français (fichiers .idx et .sub) | AVI (XviD) | 576x304 | 48000 Hz, Stereo, 128 kbps | 694 Mb | 88 mn
Genre: Comedy
A satire of biblical and political film by the Monty Python.
Une satire des films bibliques et politiques par les Monty Python.
A motion picture destined to offend nearly two thirds of the civilized world. And severely annoy the other third.
Brian is born on the original Christmas, in the stable next door. He spends his life being mistaken for a messiah.
Irreverent satire of Biblical films and religious intolerance focuses on Brian, a Jew in Roman-occupied Judea. After joining up with an anti-Roman political organization, Brian is mistaken for a prophet, and becomes a reluctant Messiah
Un film destiné à offenser presque les deux tiers du monde civilisé. Et sévèrement agacer l'autre tiers.
Brian est né le jour de Noël, dans l'étable voisine… Il passe sa vie à être pris pour un messie.
Cette satire irrévérencieuse des films bibliques et de l'intolérance religieuse se concentre sur Brian, un juif de la Judée sous occupation romaine. Après s'être joint à une organisation politique anti-Romaine, Brian est confondu avec un prophète, et devient un Messie à contrecoeur.
http://rapidshare.com/files/10477278/Brian1979.part1.rar
http://rapidshare.com/files/10791065/Brian1979.part2.rar
http://rapidshare.com/files/10637988/Brian1979.part3.rar
http://rapidshare.com/files/10660799/Brian1979.part4.rar
http://rapidshare.com/files/10820658/Brian1979.part5.rar
http://rapidshare.com/files/10910636/Brian1979.part6.rar
http://rapidshare.com/files/10932951/Brian1979.part7.rar
http://rapidshare.com/files/10457338/Brian1979.part8.rar
Password : CMC