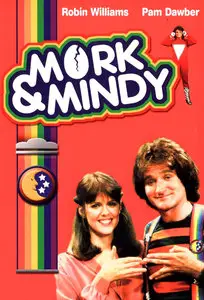 Mork and Mindy S04 (1981-1982)
DVDRip | MKV | 640x470 | x264 @ ~1361 Kbps | English AAC (2 ch) @ ~85 Kbps | ~9h | 22 Episodes | 6.17 GB
Subs: None
Genre: Comedy | Family | Sci-Fi
Mork & Mindy is a spin-off from an episode of Happy Days seen in February 1978, in which an alien from the planet Ork lands on Earth and attempts to kidnap Richie. Mork is a misfit on his own planet because of his sense of humor, so the humorless Orkans send him off to study Earthlings, whose 'crazy' customs they had never been able to understand. Mork lands, in a giant eggshell, near Boulder, Colorado and is befriended by pretty Mindy McConnell, a clerk at a music store run by her father. Mork looks human, but his strange mixture of Orkan and Earthling customs leads most people to think of him as a nut..
About file
Name mork.and.mindy.s04e10.dvdrip-AVR.mkv
Date Sat, 27 Jun 2015 16:34:08 +0600
Size 274,048,914 bytes (261.353411 MiB)
Magic
File type data
Generic infos
Duration 00:25:13 (1512.777 s)
Container matroska
Production date Fri, 26 Jun 2015 08:44:25 +0600
Total tracks 2
Track nr. 1 video (V_MPEG4/ISO/AVC) {und}
Track nr. 2 audio (A_AAC) {und}
Muxing library libebml v1.3.1 + libmatroska v1.4.2
Writing application mkvmerge v8.0.0 ('Til The Day That I Die') 32bit
Relevant data
Resolution 640 x 470
Width multiple of 32
Height multiple of 2
Average DRF 19.562062
Standard deviation 3.958253
Std. dev. weighted mean 3.750634
Video track
Codec ID V_MPEG4/ISO/AVC
Resolution 640 x 470
Frame aspect ratio 64:47 = 1.361702
Pixel aspect ratio 1:1 = 1
Display aspect ratio 64:47 = 1.361702
Framerate 23.976024 fps
Stream size 257,453,729 bytes (245.527009 MiB)
Duration (bs) 00:25:13 (1512.761238 s)
Bitrate (bs) 1361.503574 kbps
Qf 0.188783
Audio track
Codec ID A_AAC
Sampling frequency 48000 Hz
Channels 2
Stream size 16,180,865 bytes (15.431275 MiB)
Bitstream type (bs) AAC LC (Low Complexity)
Frames (bs) 70,911
Duration (bs) 00:25:13 (1512.768 s)
Chunk-aligned (bs) Yes
Bitrate (bs) 85.569578 kbps VBR
Sampling frequency (bs) 48000 Hz
Mode (bs) 2: front-left, front-right
Video bitstream
Bitstream type MPEG-4 Part 10
User data x264 | core 146 r2538 121396c | H.264/MPEG-4 AVC codec
User data Copyleft 2003-2015 |
http://www.videolan.org/x264.html
| cabac=1
User data ref=5 | deblock=1:0:0 | analyse=0x3:0x113 | me=umh | subme=8 | psy=1
User data psy_rd=1.00:0.00 | mixed_ref=1 | me_range=16 | chroma_me=1
User data trellis=1 | 8x8dct=1 | cqm=0 | deadzone=21,11 | fast_pskip=1
User data chroma_qp_offset=-2 | threads=6 | lookahead_threads=1
User data sliced_threads=0 | nr=0 | decimate=1 | interlaced=0
User data bluray_compat=0 | constrained_intra=0 | bframes=3 | b_pyramid=2
User data b_adapt=2 | b_bias=0 | direct=3 | weightb=1 | open_gop=0 | weightp=2
User data keyint=240 | keyint_min=23 | scenecut=40 | intra_refresh=0
User data rc_lookahead=50 | rc=crf | mbtree=1 | crf=19.0 | qcomp=0.60
User data qpmin=0 | qpmax=69 | qpstep=4 | vbv_maxrate=17500
User data vbv_bufsize=17500 | crf_max=0.0 | nal_hrd=none | filler=0
User data ip_ratio=1.40 | aq=1:1.00
SPS id 0
Profile High@L3.1
Num ref frames 5
Aspect ratio Square pixels
Chroma format YUV 4:2:0
PPS id 0 (SPS: 0)
Entropy coding type CABAC
Weighted prediction P slices - explicit weighted prediction
Weighted bipred idc B slices - implicit weighted prediction
8x8dct Yes
Total frames 36,270
Drop/delay frames 0
Corrupt frames 0
P-slices 9651 ( 26.609 %) #####
B-slices 26295 ( 72.498 %) ##############
I-slices 324 ( 0.893 %)
SP-slices 0 ( 0.000 %)
SI-slices 0 ( 0.000 %)
DRF analysis
average DRF 19.562062
standard deviation 3.958253
max DRF 29
DRF<4 0 ( 0.000 %)
DRF=4 1 ( 0.003 %)
DRF=5 7 ( 0.019 %)
DRF=6 12 ( 0.033 %)
DRF=7 17 ( 0.047 %)
DRF=8 220 ( 0.607 %)
DRF=9 302 ( 0.833 %)
DRF=10 233 ( 0.642 %)
DRF=11 290 ( 0.800 %)
DRF=12 792 ( 2.184 %)
DRF=13 1483 ( 4.089 %) #
DRF=14 1128 ( 3.110 %) #
DRF=15 1140 ( 3.143 %) #
DRF=16 1186 ( 3.270 %) #
DRF=17 2384 ( 6.573 %) #
DRF=18 2980 ( 8.216 %) ##
DRF=19 4441 ( 12.244 %) ##
DRF=20 4563 ( 12.581 %) ###
DRF=21 4354 ( 12.004 %) ##
DRF=22 2607 ( 7.188 %) #
DRF=23 2487 ( 6.857 %) #
DRF=24 1646 ( 4.538 %) #
DRF=25 1712 ( 4.720 %) #
DRF=26 1468 ( 4.047 %) #
DRF=27 542 ( 1.494 %)
DRF=28 240 ( 0.662 %)
DRF=29 35 ( 0.096 %)
DRF>29 0 ( 0.000 %)
P-slices average DRF 17.630815
P-slices std. deviation 3.610614
P-slices max DRF 29
B-slices average DRF 20.325689
B-slices std. deviation 3.806405
B-slices max DRF 29
I-slices average DRF 15.114198
I-slices std. deviation 3.395156
I-slices max DRF 24
Profile compliancy
Selected profile MTK PAL 6000
Resolution Ok
Framerate 23.976024 <> 25
Min buffer fill 81%
This report was created by AVInaptic (18-12-2011) on 28-06-2015 01:00:51
IMDB