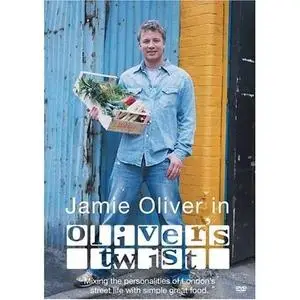 Oliver's Twist
AVI DivX | Video: 71 Kbps, 368 x 272 | MP3 128 Kbps
699 MB | 167 min | English language
Jamie Oliver (The Naked Chef) knows the best places to buy food in London. In this DVD, Oliver's Twist, Jamie takes us to his favorite stores, and then it's back to his place to cook up fantastic food for family and friends. In Jamie's unique style he gives culinary advice and great tips as he grills, grinds, roasts and fries. And with food on the table, let the good times roll! This DVD contains 7 classic episodes from his Oliver's Twist TV series as seen on the Food Network.
"I think that the show's success is down to me being me - an ordinary bloke who's just passionate about good food - and people can relate to that. Even now, blokes who've never done more than open a packet come up to me and tell me that they've started cooking. That's the best result ever as all I ever wanted to do was to make food accessible to everyone; to show that you can make mistakes - I do all the time - but it doesn't matter." -Jamie Oliver
EPISODES
1) World Cup Breakfast: After a big night out what better way for Jamie and his mates to recover than a morning watching soccer with a full Oliver breakfast.
2) Scarlet Division: Jamie drums up some vegetarian tukka as he gets together with his band for a jamming session.
3) The Bill: When Jamie pays a visit to his mates on the set of The Bill, three cops are delighted to accept his invitation to dinner.
4) Wild City: Horseradish outside your house? Rocket by the roadside? Jamie and his mentor Gennaro show how, even in the middle of a city, Mother Nature does provide.
5) Tiger: Jamie's grandmother, Tiger, and her friends are in London for a day out, so Jamie invites them over for afternoon tea.
6) Bollywood: Jamie goes Indian as he hosts a Bollywood night with all the trimmings.
7) Chocolate: As a bribe for babysitting Poppy, Jamie offers the girls the one thing they can't resist chocolate, and lots of it.
––––––––––––––––––––––––––––––––––––––––