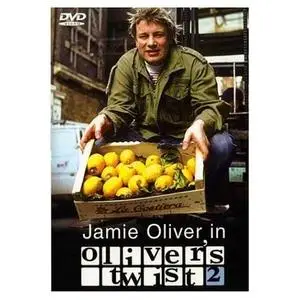 Oliver's Twist 2
AVI DivX | Video: 170 Kbps, 560 x 416 | MP3 128 Kbps
Ep1-15 | 24 min each | 239 MB each | English language
Whether making a classic Irish dish or an authentic Brazilian feijoada, Jamie shows us how to shop for the freshest, most flavorful ingredients and then it's back to his flat where he rustles up some tasty dishes for his friends. Oliver's Twist 2 contains 15 complete episodes from Jamie's hit TV show, available for the first time on DVD. Let the party begin!
Disc 1: Episodes
1. Veg Out
2. An Englishman And An Irishman
3. Flash In The Pan
4. A Very British Barbecue
5. Pasta & The Masta
6. World On A Plate
7. Carnival Brazil
8. Jamie & The King
Disc 2: Episodes
9. Birthday Boy
10. The Boat Trip
11. George's Day Off
12. Daddy's Girl
13. Jekka The Herb Lady
14. The Big Cheese
15. The Night Shift