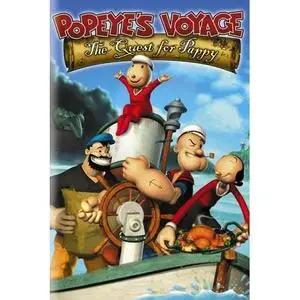 Popeye's Voyage - The Quest for Pappy
AVI DivX | Video 178 Kbps, 656 x 368 | MP3 128 Kbps
499 MB | 48 min | English language
The lovable sailor is back in his first CGI-animated adventure! Popeye is dogged by nightmares warning him that his Pappy, who abandoned him as a child, is in danger and needs him, so he bravely sets out on the open sea to find his long-lost father. Accompanied by the admiring Olive Oyl, the brawny Bruno, and little Swee'Pea, not to mention Wimpy the stowaway, he heads for the Sea of Mystery, which happens to be in the evil Sea Hag's domain. Strange things begin to happen along the way, as the group encounters sirens, serpents, and menacing mists. No worries, though, as Popeye is armed with his spinach and ready for action!
Sporting an all-star cast including Academy Award winner Kathy Bates (MISERY, ABOUT SCHMIDT) and Billy West (THE REN & STIMPY SHOW), POPEYE'S VOYAGE was written by MAD ABOUT YOU's Paul Reiser, and features an original score by Mark Mothersbaugh (DEVO) and Kevin Kliesch.