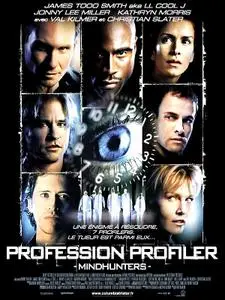 Profession profiler (Mindhunters)
DVD-R | Language : Francais/English | Subtitles :Fr, En | 106 min | 4,35Gb
Genre: Thriller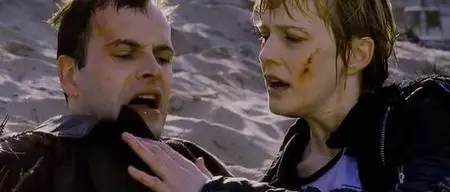 Acteur(s) :
Eion Bailey, Clifton Collins Jr., Val Kilmer, Christian Slater, Jonny Lee
Réalisateur(s) :
Renny Harlin
Langue :
Français, Anglais
Studios :
G.C.T.H.V.
Date de sortie du DVD :
4 janvier 2006
ASIN :
B000C4AD92
Nombre de Disque :
1

Sept jeunes agents parmi les plus prometteurs du FBI n'ont plus qu'un ultime test à passer pour devenir des profileurs psychologiques. Jake Harris, chargé de leur entraînement, n'est pas un agent comme les autres. La dernière épreuve qu'il leur a concocté va se révéler plus vraie que nature, au risque de leur coûter la vie… Isolés sur une île, coupés du monde, les jeunes agents vont rapidement découvrir qu'un véritable serial killer se cache parmi eux.
A group of seven FBI trainees is sent to an isolated island for the final stage of their training period under the direction of the eccentric Jake Harris (Val Kilmer), who uses questionable methods. However, they are attacked and killed by a serial killer that can be one of the team members. The tension increases amidst the group with the lack of confidence on each other.

Hébergeur :
RapidShare
Qualité :
DVD-R
Format :
MPEG-2
Langue :
Francais, English
Sous-titre :
Francais, English
Découpé avec :
XtremSplit
Nombre de fichiers :
23 Fichiers
Taille des fichiers :
195 Mo
Taille totale :
4370 Mo
Up réalisé par :
Starnouf

http://rapidshare.com/files/326755712/MINDHUNTERS.iso.001.xtm
http://rapidshare.com/files/326768210/MINDHUNTERS.iso.002.xtm
http://rapidshare.com/files/326779573/MINDHUNTERS.iso.003.xtm
http://rapidshare.com/files/326790478/MINDHUNTERS.iso.004.xtm
http://rapidshare.com/files/326800618/MINDHUNTERS.iso.005.xtm
http://rapidshare.com/files/326810549/MINDHUNTERS.iso.006.xtm
http://rapidshare.com/files/326821421/MINDHUNTERS.iso.007.xtm
http://rapidshare.com/files/326833036/MINDHUNTERS.iso.008.xtm
http://rapidshare.com/files/326844748/MINDHUNTERS.iso.009.xtm
http://rapidshare.com/files/326855950/MINDHUNTERS.iso.010.xtm
http://rapidshare.com/files/326866184/MINDHUNTERS.iso.011.xtm
http://rapidshare.com/files/326876994/MINDHUNTERS.iso.012.xtm
http://rapidshare.com/files/326889032/MINDHUNTERS.iso.013.xtm
http://rapidshare.com/files/326900810/MINDHUNTERS.iso.014.xtm
http://rapidshare.com/files/326912750/MINDHUNTERS.iso.015.xtm
http://rapidshare.com/files/326926513/MINDHUNTERS.iso.016.xtm
http://rapidshare.com/files/326939777/MINDHUNTERS.iso.017.xtm
http://rapidshare.com/files/326954969/MINDHUNTERS.iso.018.xtm
http://rapidshare.com/files/326970927/MINDHUNTERS.iso.019.xtm
http://rapidshare.com/files/326986649/MINDHUNTERS.iso.020.xtm
http://rapidshare.com/files/327003772/MINDHUNTERS.iso.021.xtm
http://rapidshare.com/files/327019240/MINDHUNTERS.iso.022.xtm
http://rapidshare.com/files/327035638/MINDHUNTERS.iso.023.xtm
Total du post :
4,35 Go