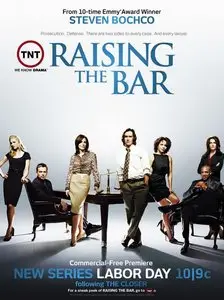 Raising the Bar
Season 2 Episodes 13,14,15
English | 0:42:38 | 624x352 | NTSC (23FPS) | XVID | MP3 128 KBPS | 3x350 MB
Genre: Crime

Former law school classmates reunite in court when they take on rival clients.
2x13
Jerry's moral compass is tested when his client's testimony against a rapist might be utterly untrue. In the meantime, a regrettable turn of events leaves Roz with a baby; and Bobbi corners Jerry about his untidy apartment.
RapidShare
Part 1
Part 2
2x14
Richard represents a law student charged with pouring alcohol on a cop at a sporting event. Meanwhile, Marcus enforces legal action against a father charged with stealing food to feed his children, but a videotape surfaces to tell the true story. And Bobbi and Jerry meet at an important personal crossroads.
RapidShare
Part 1
Part 2
2x15
In the series finale, Jerry tries to uphold justice for a male massage therapist charged with inappropriately touching a female client, but a snafu involving the jury threatens to derail the case. Meanwhile, Kessler's boyfriend asks her a legal favor; Jerry and Bobbi search for an apartment; and Roz—who continues to care for a baby—is extorted by the infant's father.
RapidShare
Part 1
Part 2