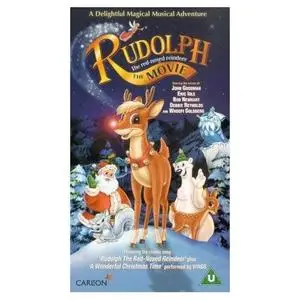 Rudolph The Red-Nosed Reindeer The Movie (DVD-Rip)
AVI DivX | Video: 148 Kbps, 528 x 384 | MP3 128 Kbps
699 MB | 80 min | English language
The all-new adventures of Rudolph, "the most famous reindeer of all" come vividly to life in a major feature length musical with lovable animated friends, an all star cast, and a fresh spin on this timeless character.
Laughed at because of his nose, Rudolph runs away into the North Pole wilderness, where he meets a gentle polar bear (Bob Newhart). When his friend Zoey, an attractive young doe, is captured by evil Ice Queen Stormella (Whoopi Goldberg), Rudolph comes to her rescue and also helps Santa (John Goodman) save Christmas.
This merry mix of music and magic is destined to become a classic, with eight original songs plus the Paul McCartney hit "Wonderful Christmastime" performed by Wings and the perennial classic, Christmas song "Rudolph the Red-Nosed Reindeer".
http://rapidshare.com/files/6129977/rudi_crven_nos.part1.rar
http://rapidshare.com/files/6133370/rudi_crven_nos.part2.rar
http://rapidshare.com/files/6137729/rudi_crven_nos.part3.rar
http://rapidshare.com/files/6142718/rudi_crven_nos.part4.rar
http://rapidshare.com/files/6148180/rudi_crven_nos.part5.rar
http://rapidshare.com/files/6153728/rudi_crven_nos.part6.rar
http://rapidshare.com/files/6159997/rudi_crven_nos.part7.rar
http://rapidshare.com/files/6126872/rudi_crven_nos.part8.rar