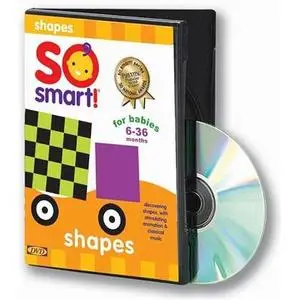 So Smart! Shapes
AVI DivX | Video: 171 Kbps, 544 x 400 | MP3 128 Kbps
311 MB | 31 min | For babies
Meet Cecil the Circle, Suzie the Square, and Traci the Triangle. They'll teach little ones how simple shapes can be part of anything from fish and bubbles to clocks and trucks. Set to live classical music from Handel, Tchaikovsky, and other great composers, So Smart! Shapes is a treat for little eyes and ears.The DVD includes parent-guided interactive storybook features and printable story cards! Winner of Parents Magazine's Top Picks.