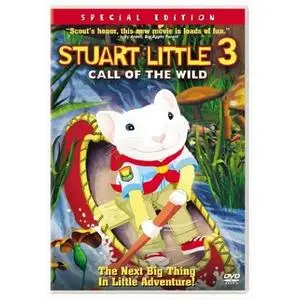 AVI DivX video 165kbps 640x352 MP3 128kbps

699MB 72min english language
Stuart Little's back in an all-new, all-animated movie! School's out for the summer and the Little Family is spending their vacation at a beautiful lakeside cabin. Leading the way is Stuart, who can't wait to become a Scout and spend his entire vacation canoeing, hiking and being the outdoorsy little guy he claims to be. But, there is something lurking in the forest who could spoil all the fun: THE BEAST; a mean and isolated forest terror who rules the local animals with an iron paw. When Snowbell is taken prisoner, a Little bravery goes a long way as Stuart, along with his new friend, Reeko, a skunk, heroically rescues him, frees the other woodland creatures and outwits the wily Beast. It's a big job for a Little mouse, but someone's got to do it! Featuring the voice talents of Michael J. Fox, Geena Davis, Hugh Laurie and Wayne Brady as Stuart's newest pal Reeko, it's the next big thing in Little adventure!