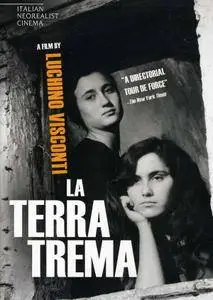 La Terra Trema (1948)
A Film by Luchino Visconti
DVD9 | ISO+MDS | PAL 4:3 | 02:33:37 | 7,43 Gb
Audio: Italiano AC3 2.0 @ 192 Kbps | Subs: English, Français, Italiano (+HoH)
Genre: Art-house, Drama
In the poor Sicilian village of Aci Trezza the fisherman have been exploited for generations. Tired of the endless cycle of poverty, a young soldier returns home from war and convinces his family to strike out on their own. Tragically, his plan to change the system is met with a cruel blow that pushes them even further under water. Shot on location with non-professional actors, Luchino Visconti's haunting second film remains a masterpiece of Italian cinema as well as a 'landmark Neorealist work'.