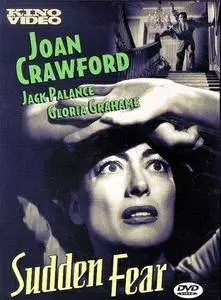 Sudden Fear (1952)
DVD5 | VIDEO_TS | NTSC | 4:3 | 720x480 | 5000 kbps | 4.4Gb
Audio: English AC3 1.0 @ 224 Kbps
01:50:00 | USA | Thriller
After an ambitious actor insinuates himself into the life of a wealthy middle-aged playwright and marries her, he plots with his mistress to murder her.
Director:
David Miller
Cast:
Joan Crawford, Jack Palance, Gloria Grahame, Bruce Bennett, Virginia Huston, Mike Connors, George Chan, Estelle Etterre, Bess Flowers, Taylor Holmes, Selmer Jackson, Lewis Martin, Harold Miller, Ewing Mitchell, Arthur Space, Amzie Strickland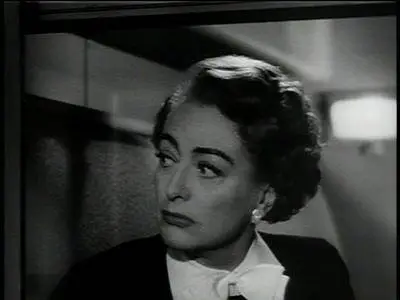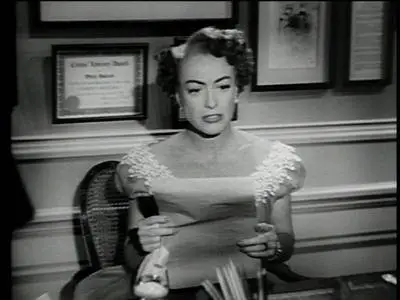 During rehearsals of her latest Broadway production, successful playwright Myra Hudson fires leading man Lester Blaine because she feels he is not romantic enough for the part. Furious, Lester, a newcomer, lectures Myra about the nature of romance and storms away. A month later, Myra, who is also a San Francisco heiress, boards a train bound for home. To her surprise, she discovers that Lester is also on board and invites him to her compartment for a drink. Despite their initial animosity, Myra and Lester spend the entire trip together, getting to know each other's fears and dreams. In San Francisco, Myra and Lester's romance blossoms, but one night Lester deliberately fails to show for a dinner party at Myra's posh home. Concerned, Myra drives to Lester's apartment and finds him with his bags packed. When Lester protests that he will never fit into her wealthy world, Myra declares that without him, "she has nothing" and kisses him. Later, after they have married, Lester attends an elegant party with Myra and makes special note of Irene Nevis, the new girl friend of lawyer Junior Kearney, who along with his brother Steve, represents Myra. Lester later surprises Irene, his former lover and partner, at her apartment and demands to know why she followed him to San Francisco. Irene, who read about Lester's marriage in the New York newspapers, alludes to his criminal past, but Lester refuses to be blackmailed. When Lester learns through Steve that Myra is planning to give a large sum to a charity, however, he asks Irene to extract information about it from Junior, then kisses her. Later, Irene tells Lester that Myra is turning her entire inheritance over to charity, keeping only those assets earned by her plays. That Friday, her birthday, Myra meets with Steve in her home office and reveals her desire to leave her play assets to Lester. Although Steve, who had prepared a will in which Lester was to get a mere $10,000 a year, questions Myra's bequeathment, Myra insists on recording new terms on her voice-activated dictaphone. When party guests, including Irene, begin arriving, Myra abandons the recording to greet them. During the evening, Irene slips away and meets with Lester in the office. The next morning, Myra discovers that she left the dictaphone on and plays back the recording. To her horror, she hears Lester and Irene, who had read Steve's version of her will, kissing and plotting to kill her before Monday, the day she is to finalize her donation and sign the will. Devastated, Myra tries to hide the record, but it drops and shatters. Myra spends the day scheming, and while Lester is sleeping, sneaks into his bedroom and steals his key case, which contains Irene's apartment key. Myra has a duplicate key made and returns the case undetected. Myra then announces to Lester that she wants to go to the family summer house, even though it is the off-season. As hoped, Lester insists on accompanying her but, just before they are to leave, Myra states that she has to work all day and sends him to air out the place. Myra, who knows that Irene will not be home, then uses the duplicate key to enter her apartment. Myra takes some of Irene's stationery, as well as a writing sample, and a gun she finds in Irene's closet. She also drops one of Lester's monogrammed handkerchiefs on the floor. Back at home, she forges two notes to and from Irene and Lester, directing Irene to meet Lester in his garage at midnight, and Lester to meet Irene at her apartment at the same time. When Lester returns from the summer house, where he and Irene had been finalizing their murder plot, Myra informs him that they have to stay in town to attend her best friend's birthday party. Lester barely hides his anger over the change, and he and Irene scramble to come up with an alternate plan. That night, as Lester, Irene and others are enjoying pre-party cocktails at Myra's, Myra slips Lester's forged note into Irene's gloves, then deliberately falls down the stairs. Feigning an ankle injury, Myra declares she is staying home and, as Lester carries her upstairs, drops Irene's forged note into his pocket. Later, after pretending to fall asleep, an armed Myra sneaks to Irene's nearby apartment and hides when Irene arrives with Junior. As soon as Irene gets rid of Junior, she leaves to meet Lester in the garage. Soon after, the phone rings, but the caller hangs up as Myra is answering it. Although Myra has imagined how she will shoot Lester, she realizes that she is incapable of murder and drops the gun on the floor, repulsed. Just then, Lester shows up, and Myra races back to the closet. The phone rings again, and when Lester picks it up and hears Junior asking Irene why she failed to answer his previous call, he becomes suspicious. Finding the gun and his planted handkerchief, Lester deduces that he has been set up by Myra and races off in his car. Myra then takes off on foot, and Lester spots her and gives chase. At the same time, Irene leaves Lester's garage, wearing a white scarf identical to Myra's. Filled with murderous rage, Lester mistakes Irene for Myra and runs her down, killing both himself and Irene. As passersby discover the wreckage, Myra walks off, stunned but safe.
IMDb