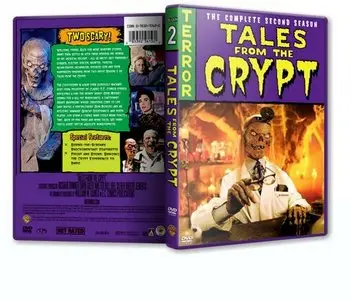 Tales From The Crypt: The Complete Second Season
DVD-rip | 1990 | 18*25 minutes | 640x480 | MKV | h264 1252 Kbps | MP3 CBR 128kbps | 18*250 Mb
Language: English | Embedded english subtitles
Here are 18 more eye-popping episodes from HBO's shiver-shudder-and-shriek anthology series, adapted from the pages of E.C. Comics' legendary horror comics. Season 2 of Tales from the Crypt doesn't back down from the promise made by its debut season: some of the biggest names in Hollywood do their best in front of and behind the camera to deliver the gory goods, with a healthy dash of Tales' signature coal-black humor.
There's Demi Moore as a classic E.C. femme fatale in Howard Deutch's "Dead Right"; Desperate Housewives' Teri Hatcher co-stars with a reanimated corpse in "The Thing from the Grave"; Iggy Pop and the voice of Sam Kinison are featured in a sinister story of music and murder in "For Cryin' Out Loud"; and Arnold Schwarzenegger makes his directorial debut with the macabre "The Switch." Series co-producers Walter Hill and Richard Donner also contribute creepfests, as do horror vets Jack Sholder, Tom Holland, and special effects designer Chris Walas; other performers facing fearsome fates include Patricia Arquette, Don Rickles, Bobcat Goldthwait, Lance Henriksen, and Harry Anderson.