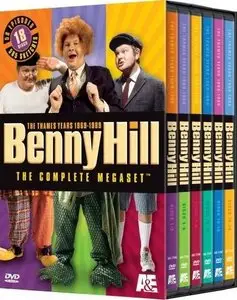 The Benny Hill Show (1955-1989)
SATRip | AVI | XviD 1.1.2 Final - 1600 kbps KB/s | 25.000 fps | 576 x 432 | MP3 @ 128 KB/s @ Stereo | 34:29:32 | 24.4 Gb
Genre: Comedy

Alfred Hill was born in Southampton and grew up in Wilton Road, Upper Shirley, where he and his brother attended Taunton's School. During World War II, Hill was one of the scholars evacuated with the school to Bournemouth School, East Way, Bournemouth. After leaving Bournemouth School, Hill worked variously as a milkman in Eastleigh, a bridge operator, a driver and a drummer before he finally got a foot in the door of the entertainment industry by becoming an assistant stage manager. Inspired by the 'star comedians' of British music hall shows, Hill set out to make his mark in show business. For the stage, he changed his first name to 'Benny', in homage to his favourite comedian, Jack Benny. Hill began appearing at working men's clubs and Masonic dinners before graduating to nightclub and theatre jobs. Hill auditioned for Soho's famed Windmill Theatre (home of Revudeville, a popular show of singers, comedians and nude girls), but he was not hired. Benny's first job in professional theatre as a performer was as Reg Varney's straight man, beating a then unknown Peter Sellers for the role.