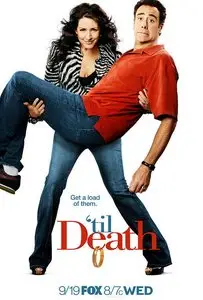 Til Death
Season 4 Episodes 04, 05, 06, 07
English | 0:21:55 | 624x352 | NTSC (23FPS) | XVID | MP3 128 KBPS | 4x175 MB
Genre: Comedy

A pair of newlyweds move in next door to a veteran married couple of 25 years.
4x04
Eddie gives himself a positive attitude for Christmas after meeting a cheerful disabled man. Then he gets sick. Meanwhile, Kenny (J.B. Smoove) gets a job as a shopping-mall Santa, and he pleases kids more than their parents.
RapidShare
Download
4x05
Eddie and Joy visit his parents (Valerie Harper, Jerry Adler) in Florida for Thanksgiving, and discover that they're getting a divorce. Meanwhile, Kenny's flying to Las Vegas for the holiday, but runs into turbulence before he leaves the Philly airport.
RapidShare
Download
4x06
Joy makes friends with an ex-girlfriend of Eddie's (Julie Claire), and it turns out that she isn't over him. Curiously, Joy doesn't mind at all. Meanwhile, Kenny's dating a woman with three kids, but he's seeing the kids more than he's seeing her.
RapidShare
Download
4x07
Kenny moves in with Eddie and Joy after his ex (Kym Whitley) kicks him out. This prompts Joy to play matchmaker to get the couple back together. Steve: Kevin Farley.
RapidShare
Download