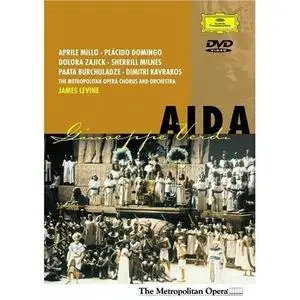 AVI DivX video 76kbps 352x256 MP3 128kbps
699MB 157min italian with embedded english subs
Aida fits the popular conception of what a grand opera should be: it is a spectacle of music and drama containing the popular operatic themes of love, betrayal, vengeance, honour, and jealousy set against an exotic location that demands larger-than-life scenes. The music is by Giuseppe Verdi and the libretto is by Antonio Ghislanzoni, based on a story by Auguste Mariette. The opera is set in Egypt at the time of the Pharaohs and the world premiere of the opera was held on 24 December 1871 at Cairo, Egypt.
This is a Metropolitan Opera production featuring the Metropolitan Opera Chorus and Orchestra conducted by James Levine. The performance was recorded on 7 October 1989 and is a lavish production by Sonja Frisell. It features elaborate costumes from Dada Saligeri, majestic stage settings by Gianni Quaranta and Ben-Hur like crowd scenes with priests, priestesses, dancers, slaves, guards and soldiers, Egyptian populace and Ethiopian prisoners-of-war.
The story features Aida (Aprille Millo), daughter of Amonasro (Sherrill Milnes), King of Ethiopia. Ethiopia is waging war on Egypt, and Radamès (Plácido Domingo) is a young and dashing Egyptian captain of the guards. Aida has been captured (presumably from a previous conflict between the two countries) and currently serves Amneris (Dolora Zajick), daughter of the Pharaoh, as a slave girl. Her true identity as an Ethiopian princess is unknown to the Egyptians. She and Radamès are secretly in love, but Amneris also desires Radamès.
This is an excellent production featuring some great singing and acting accompanied by spectacular crowd scenes and great sets which slide open as well as up or down during the scene changes. In particular, Dolora Jajick and Aprile Millo are great and the duets between them are definitely worth watching.