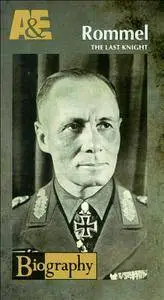 A&E Biography - Rommel: The Last Knight (1997)
DVDRip | 640 x 464 | .AVI/XviD @ 1389 Kbps | 44 min 23 s | 495 MB
Audio: English MP3 160 Kbps, 2 channels | Subs: None
Genre: Documentary, Biography
He served the cruelest monster who ever lived, yet emerged with his reputation intact. His military brilliance and sense of honor earned him a place among history's most fabled commanders. Erwin Rommel may be the greatest general to serve in World War II. His dreaded Panzer legions inflicted bitter defeats on the Allied commanders who opposed him. Yet his unwavering brilliance and nobility won him the enduring respect of his enemies, and eventually the betrayal of his master.