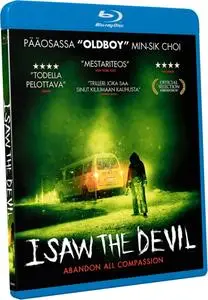 I Saw the Devil (2010) [Uncut]
BDRip | MKV | 720x388 | x264 @ 977 Kbps | 143 min | 1,40 Gb
Audio: Korean (한국어) AC3 5.1 @ 384 Kbps | Subs: English, Română
––––––-
BDRip 1080p | MKV | 1920x1036 | x264 @ 12,0 Mbps | 144 min | 13,56 Gb
Audio: Korean (한국어) DTS 5.1 @ 1509 Kbps | Subs: English, Svenska, Norsk, Dansk, Suomi
Genre: Thriller, Horror
On a dark road, taxi driver Kyung-chul (Min-sik Choi) comes across a scared female motorist stranded in a broken-down vehicle. He pulls over – but not to help her. When the woman's head is discovered in a local river, her devastated fiancé, Kim Soo-hyeon (Byung-hun Lee), a trained secret agent, becomes obsessed with hunting down her killer. Once he finds Kyung-chul, things get twisted. After brutally beating the murderer, Kim lets him go free, and a demented game of cat and mouse begins.