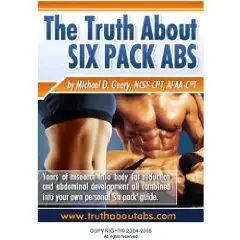 The Truth About Six Pack Abs
Publisher: Vervante | ISBN: 1599716283 | edition 2006 | PDF | 120 pages | 3 mb
Visit TruthAboutAbs.com for full details on "The Truth about Six Pack Abs" program. Today's world is full of gimmicks and scams surrounding "miracle" fat-loss products, abdominal gadgets that claim six-pack abs while you watch TV, and "magic" pills and powders promising to get you lean in only a matter of days. It's long over-due to end the scams and gimmicks. That's why the book, "The Truth about Six Pack Abs" has been a hit with readers around the world that are looking for the TRUTH, and a good honest program that reveals the tried-and -true training and nutritional strategies to lose your stubborn belly fat and develop a flat lean six pack of abs for life! * Contains detailed descriptions of over 50 of the most effective fat loss and body hardening exercises from head to toe. * Scientifically-designed full body training programs laid out for you to follow. * Over 13 specific fat-stripping nutritional secrets. * Why low-fat or low-carb diets may actually hurt your efforts to lose fat, and what to do about it. * Why crunches, situps, and torso twists are almost a complete waste of time. Discover the exercises that build a truly rock hard body and strip away stomach fat 10 times faster. * The truth about lower abs vs. upper abs training. * Over 15 specific tricks for boosting your metabolic rate to burn more fat on a 24/7 basis. * My simple, but very effective fat-scorching dumbbell exercises that 99% of people in most gyms dont even know about. Even most trainers have never heard of these exercises, but they are two of the best fat burning exercises on the planet. Pick up your copy of "The Truth about Six Pack Abs" today and get started on a leaner, sexier body right away!