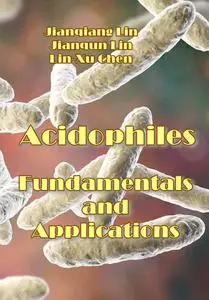 "Acidophiles: Fundamentals and Applications" ed. by Jianqiang Lin, Jianqun Lin, Lin-Xu Chen
ITexLi | 2021 | ISBN: 1839692804 9781839692802 1839692790 9781839692796 1839692812 9781839692819 | 85 pages | PDF | 7 MB
This book presents breakthroughs and insights into the research on acidophiles. The book covers such topics as the two-component system (TCS) in the regulation of the sulfur metabolic process, adaptation mechanisms of acidophiles to low pH, regulation mechanisms and application strategy of quorum sensing in bioleaching bacteria, and Lactobacillus acidophilus and its potential role as a therapeutic for human bone disorders.
Acidophiles are an important category of microorganisms defined by their ability to withstand and even grow in acidic environments. They are present in terrestrial and marine environments as well as the human body. The diversity, adaptation, and functions of these microorganisms can contribute to the development and application of new biotechnologies for resolving problems of resource exploitation, pollution, and human disease.
Contents
1. Introductory Chapter: The Important Physiological Characteristics and Industrial Applications of Acidophiles
2. Two-Component Systems in the Regulation of Sulfur and Ferrous Iron Oxidation in Acidophilic Bacteria
3. Thriving at Low pH: Adaptation Mechanisms of Acidophiles
4. Quorum Sensing of Acidophiles: A Communication System in Microorganisms
5. Acidithiobacillus Its Application in Biomining Using a Quorum Sensing Modulation Approach
6. Immunomodulatory Potential of Lactobacillus acidophilus: Implications in Bone Health
1st true PDF with TOC BookMarkLinks
More :
You find here