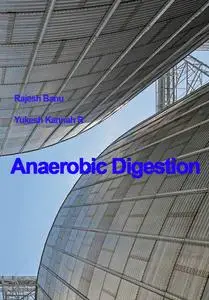 "Anaerobic Digestion" ed. by Rajesh Banu, Yukesh Kannah R
ITExLi | 2019 | ISBN: 1838818502 9781838818500 1838818499 9781838818494 1838818510 9781838818517 | 218 pages | PDF | 11 MB
The book provides in-depth information about anaerobic digestion for researchers and graduate students.
Recent advances in technology to recover bioenergy from various feedstocks make them suitable alternatives to fossil fuel. This book contains several scientific discussions regarding microbes involved in biogas production, the anaerobic digestion process, their operation, and application for sustainable development.
Contents
1.Introductory Chapter: An Overview of Biogas
2.Microbial Responses to Different Operating Practices for Biogas Production Systems
2.1 Erratum - Microbial Responses to Different Operating Practices for Biogas Production Systems
3.Searching for Metabolic Pathways of Anaerobic Digestion: A Useful List of the Key Enzymes
4.Review of Mathematical Models for the Anaerobic Digestion Process
5.Biomass Pretreatment for Enhancement of Biogas Production
6.Techno-Economic Analysis of Biogas Production from Microalgae through Anaerobic Digestion
7.Biogas for Clean Energy
8.Non-Catalytic Reforming of Biogas in Porous Media Combustion
9.Biofuel: An Environmental Friendly Fuel
10.Experimental Study of CO2 Plasticization in Polysulfone Membrane for Biogas Processing
11.Biofuel Development in Sub-Saharan Africa
1st true PDF with TOC BookMarkLinks